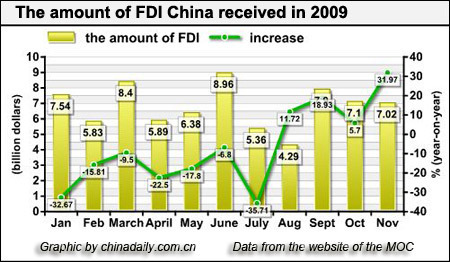 China's foreign direct investment (FDI) rose for the fourth consecutive month in November, up 31.97 percent year-on-year to $7.02 billion, said Yao Jian, spokesman for the Ministry of Commerce, on Wednesday.
November's growth partly resulted from the low figures last year, which had brought down the comparison base.
The country's FDI in November 2008 slumped 36 percent year-on-year, said Yao.
The government approved the establishment of 20,600 overseas-funded enterprises in the first 11 months this year, down 17.44 percent from the same period last year. It approved 2,437 such enterprises in November.
The FDI actually used nationwide in the first 11 months stood at $77.89 billion, down 9.86 percent from the same period of 2008, but was 2.8 percentage points lower than that in the first 10 months, said Yao.
Investment from the United States and the European Union both dropped 38 percent in November from a year earlier, but that from Association of Southeast Nations (ASEAN) nations surged almost 60 percent year-on-year.
Related readings:


 Positive FDI data drive Chinese shares 2.7% higher


 China receives $7.9b FDI in September


 China attracts $853b FDI in three decades


 On China's rapid growth in outward FDI
The FDI in China's manufacturing sector rebounded in the first 11 months and accounted for 53 percent of total FDI actually used, showing it was a strong draw for medium and long-term foreign investment, said Yao.
He did not gave specific figures of FDI in the manufacturing sector in the January-to-November period.
Foreign investment policies would be in line with the nation's industrial policies and regional development guidelines, said Yao.
The government would roll out policies to support investment in the country's less developed central and western regions, and it would also simplify approval procedures for foreign investors, said Yao.