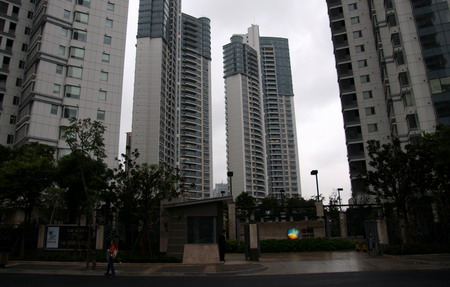 Luxury housing projet Ocean Scene No 1 is placed on the market early this month in Shanghai at a price of more than 110,000 yuan per sq m. Prices of residential apartments have exceeded that of office properties in some large Chinese cities. [CFP]
There are many riddles in Beijing's property market this year, and the most recent one is the much higher sales price for apartments than for office buildings in the same district.
Industry experts said that in a healthy real estate market, the unit price of commercial property is usually 30 percent higher than that of residential buildings in the same region.
But in Beijing, the situation is just the opposite. In some areas, the price of high-end apartments is even 50 percent higher than that of office buildings.
In the capital's Central Business District (CBD) area, where most Grade A office buildings are located, the situation has become quite common.
The sales price for Xanadu, a housing project next to the CCTV's new headquarters, has exceeded 50,000 yuan ($7,323.11) per sq m. But Fortune Plaza, a Grade A office opposite Xanadu, has been selling at an average price of 30,300 yuan per sq m.
The situation in the Financial Street area, another major business center in Beijing, is similar. The price of high-end apartments is usually 30 percent to 50 percent higher than that of office buildings in that area.
Interestingly, despite the price premium, there are more suitors for high-end apartments than for office buildings.
A luxury project in the capital's Lufthansa area recently opened with a unit price of more that 80,000 yuan per sq m, and one sale exceeded 400 million yuan on the first day of trading, with most units bought by Hong Kong residents.
However, two Grade A office buildings nearby, with unit prices ranging from 29,000 yuan to 33,000 yuan, attracted few buyers.
Li Wenjie, general manager of the property agency Centaline China (North China region) said a major reason for the abnormal purchasing patterns is too much speculative buying of high-end apartments, mainly by individual investors.
Since the mortgage policy for office buildings is stricter, the purchase of office space requires bigger cash flow from investors, thus pushing some individual buyers away from the market.
Currently, buyers of apartments can pay as little as 20 percent of the price as a down payment and apply for a mortgage with a term as long as 30 years. In the office market, buyers pay a 50 percent down payment on a 10-year mortgage.
"Because of that, there are few individual investors in the office sector. Thus, there are not so many speculative buyers and the price is more reasonable," Li said.
For Carlby Xie, associate director of Research & Advisory of Colliers' North China Division, such phenomena is understandable, given the demand and supply relationship in these two sectors.
He said he believes high-end apartments will still see rising prices next year, but with a lower growth rate.
Luo Ye, deputy general of Xanadu, offered a similar viewpoint.
"The price of high-end apartments is likely to stabilize and rise moderately next year, as the land supply in the city's primary regions has been quite limited. Moreover, increasing home purchases from overseas buyers also make the price quite firm," Luo said.
Colliers' Xie said he believes that the price of average residential properties in Beijing will grow even faster than high-end ones, which boast a unit price higher than 30,000 yuan per sq m and are developed by brand-name real estate firms.
"The reason is still the same: the demand for common residential properties is stronger than those for high-end ones," Xie said.
Related readings:


 Property market growth not bubble


 Commercial property norms relaxed


 A lesson from the Dubai crisis


 The ugly truth of urban housing boom
According to the China Index Institute, the average property price in Beijing reached a record high of 17,509 yuan per sq m in November, up 9.74 percent month-on-month.
Meanwhile, the floor space of available apartments dropped 30.3 percent on a yearly basis to 13.6 million sq m at the end of November, the lowest since 2008.
The record low supply led to panic buying, not only in the high-end sector but also in out-of-the-way regions.
Runfeng Jingshang, a property project along Beijing's South Fifth Ring Road, has attracted more than 4,000 potential buyers even though it is not yet open for sale.
Li Wei, a 28-year-old company executive, said that he has to find inside connections to ensure that he has an opportunity to buy an apartment.