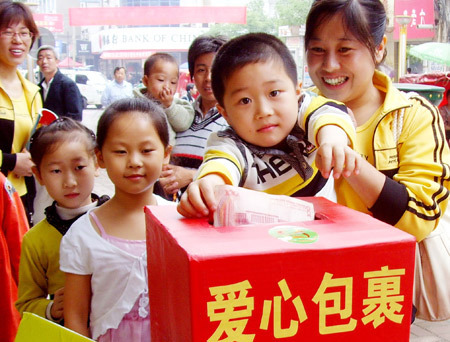 Children in Yushan county, Shanxi province, donate their pocket money to help people affected by last year's earthquake before the Children's Day. [China Daily]
Last month, Chen Fashu, chairman of the New Huadu Industrial Group based in Fujian province, found himself in the middle of a controversy. The debate began after he declared he would set up the country's largest private philanthropic fund.
Chen, ranked 15th on the 2009 list of wealthiest people by Hurun China, promised to endow the New Huadu Philanthropic Fund with 8.3 billion yuan ($1.2 billion) worth of equity, some 45 percent of his personal wealth.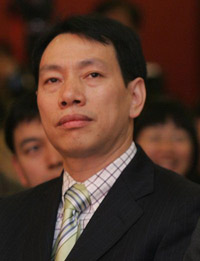 Chen Fashu
However, the goodwill move was greeted with more skepticism than appreciation. Charitable donations in the form of equity have no precedence in China. Many argue that it could be intended as a means of tax evasion. "Corporate philanthropy is very fragile. If enterprises are willing to help charities as their social responsibility, we should treasure that," says Howard Liu Hung To, director of China unit of Oxfam, Hong Kong. But he cited the old saying, "displaying a sheep's head while selling dog meat" to show his skepticism. "Credibility is the key to charity funds," he notes.
Xu Yongguang, who masterminded Project Hope, a charity program enlisting nationwide resources in support of basic education in rural China, disagrees.
"We should give the fund a 'Hurray!' Whatever the motives, it is after all more money for a good cause," Xu says. "Tax avoidance is not something to be ashamed of if it's legitimate."
With more people donating money to charity, there are constant calls for transparency and accountability on the part of non-profit organizations.
A survey by the NGO Research Center of Tsinghua University and Sinomonitor show that only 4.7 percent of donors are clear about the end use of their money, and about 70 percent have no idea.
"Public foundations reveal very little about the whereabouts of the money or its effect and efficiency. Sometimes, even experts don't understand the reports they release," says Deng Guosheng, deputy director of the NGO Research Center.
The Law on Corporate Income Tax passed in 2007 has raised the permissible level of tax-deductible donations from 3 percent to 12 percent of annual profits. But only donations to 22 designated non-profit organizations are eligible for full tax exemption.
"Beneficiaries of such tax reduction policies are taking advantage of public resources and therefore are public agencies. They are obliged to report to the public and be placed under public supervision," says Liu.
He adds that it's not enough for enterprises to rely on sheer morality to guide their motives. "It takes sunshine laws."
Related readings:


 Charity show raises money for burned children


 Ill billionaire plays poor to get medicines in charity


 Inspired granddaughter gives charity a hand


 Charity needs money for children
Xu, now secretary general with the private Narada Foundation, believes that such foundations are a breakthrough in the face of registration difficulties confronting NGOs. They could serve to connect the broken public welfare industry chain by providing funding to grassroots NGOs.
But he also cautions that Good Samaritans should become "rational donors", and realize that as donors they have the right to know.
"A well-informed public will be the driving force for the transition of public foundations from rubber stamps to real movers and shakers in society," he says.
The good news is that shortly after the Sichuan earthquake last year, China Foundation for Poverty Alleviation, Amity Foundation and China Youth Development Foundation opened their accounts to public scrutiny.
Despite the growing passion for charity, it is worth noting that charitable donations in China is still about 0.35 percent of its gross domestic product (GDP), far less from the 2-plus percent in the United States.
As Liu says: "Charity is a mission, a capacity, an ideal and a culture. While NGOs should have an instinct for transparency, it is also up to the authorities' judgment on NGOs' role in social harmony. Charity in China still has a long way to go."