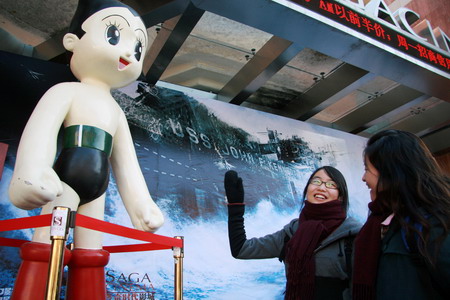 Two cinemagoers get a glimpse of Astro Boy, the protagonist from the animated film of that name, before seeing him in motion in a theater in Beijing on Friday. [China Daily]

The country's film market is booming, if some producers are to be believed. But the State Film Bureau (SFB) has a different story to tell.
Take animated flick Astro Boy, for example. Its co-producer Enlight Media claimed that it had raked in 40 million yuan ($5.8 million) over the first weekend of its release on Oct 23. But the SFB, the industry's top regulator, said it had made only 17 million yuan.
And the SFB was right, for Enlight president Zhang Zhao has apologized for having inflated the figure.
He told a press conference on Thursday that Enlight should not "speculate box office returns".
"Film companies inflate the box office figures to attract more viewers, while theaters often reduce them to pay less tax," said Bi Chenggong, a lecturer at Peking University.
Box office returns have long been a controversial and complex issue, Bi said. The box office figures that the public gets come from the media, which in turn get them from film companies. They would be much smaller if they come from the theaters.
Related readings:


 National pride creates big box office


 Chinese movies struggle to make ends meet despite pretty box office


 Film market growth inflated to attract viewers


 Chinese celebs gather at Tokyo Film Fest

Senior film reporter You Zi corroborates Bi. "Usually, the film companies supply the media with box office figures because theaters can't provide an aggregated amount" for a province, let alone the entire country.
The SFB is the only authoritative source. It gets the figures by networking the ticket-selling machines in theaters across the country and releases them in China Film, a weekly newspaper that it runs.
The problem is that China Film is circulated only in Beijing, has no online edition and is published on Thursdays. The film companies, on the other hand, release their box office figures to the media on Mondays.
"Even our data are not 100 percent accurate because about 10 percent of the theaters are still outside the network," said Zhou Baolin, director of SFB's market department. These theaters are in military facilities, near mines and factories, or in communities and rural areas.
Mao Yu, vice-president of SFB, told the press conference that there were no plans to release the revenue figures in more media outlets or set up an independent survey organization like Exhibitor Relations in North America.
"Companies that inflate box office figures mislead the public This is a very shortsighted way of marketing (for) in the long run, it will damage not only the companies' reputation, but also the entire industry."
The SFB released the box office figures of some recent popular films. The Message (Feng Sheng), made by Huayi Brothers, a private company that went public on the A-share market last month, had raked in 210 million yuan by Nov 18. And by that time, The Founding of a Republic (Jianguo Daye) had grossed 415 million yuan.