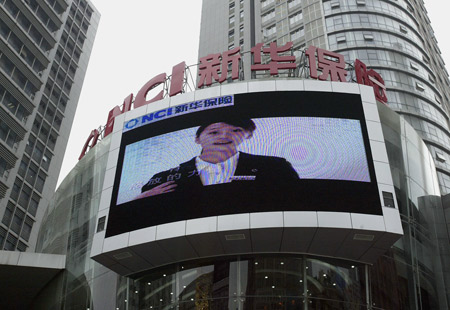 The insurance company's premium income stood at 49.1 billion yuan at the end of September. [China Daily]
Central Huijin Investment Co Ltd, the domestic arm of China's sovereign wealth fund, is buying a 38.8 percent stake in New China Life Insurance Co Ltd (NCL) from Insurance Protection Fund, the latter said in a statement yesterday.
"We agreed to hand over the 38.815 percent of NCL to Central Huijin in a lump sum during a recent board meeting," according to a statement by the fund, which protects policyholders if an insurer faces acute financial crisis. The statement, however, did not include details of the value of the deal.
The stake transfer will make Central Huijin the biggest shareholder of China's fourth largest life insurer. This will also be the investment arm's second major shareholding in a Chinese insurer. It holds an 85.5 percent stake in China Reinsurance (Group) Corp, the country's only State-owned re-insurer.
National Business Daily quoted an unnamed source as saying that Central Huijin paid 8.7 yuan per share, at a total cost of 4 billion yuan, for taking over the stake.
Related readings:


 Huijin's move aims to buoy investor trust


 Huijin's rescue scheme for lenders draws to a close


 Huijin to fund Exim, Sinosure


 Central Huijin to buy 38% stake in New China Life
"They originally set the price at 7.1 yuan per share, but later increased the offer, including the price premium that Central Huijin may later obtain after NCL gets listed," the source said. "And it has also promised not to reduce its stake in NCL within five years."
In May 2007, the Insurance Protection Fund bought 460 million shares of NCL at 5.99 yuan per share. That indicates that the fund could have made a profit of 1.25 billion yuan from the stake transfer.
"There are operating costs to run the Insurance Protection Fund, and the price premium will help protect the whole industry," said Hao Yansu, insurance professor at the Central University of Finance and Economics.
According to the China Insurance Regulatory Commission, Beijing-based NCL's premium income stood at 49.1 billion yuan at the end of September, and it was ranked fourth in the industry.
"As NCL's individual regular premium business is well developed, the company's embedded value is higher than most of its rivals, thus making the deal attractive for Central Huijin," said Wang Xiaogang, senior analyst with Shanghai-based Orient Securities. Embedded value is a major indicator of an insurer's future growth and profitability potential.
"Central Huijin's stake buy may accelerate NCL's listing process," Wang added. He estimated that PICC and China Re will make their debuts on the capital markets next year, and NCL and Taikang Life Insurance Co may float their shares in 2011.