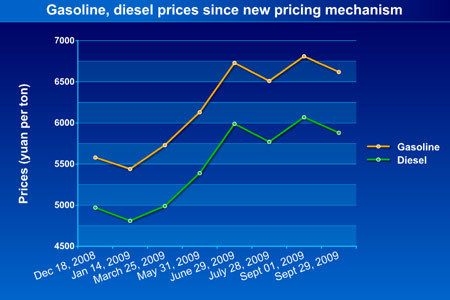 China will lower gasoline and diesel prices both by 190 yuan ($27.8) a ton from Wednesday, the National Development and Reform Commission announced Tuesday.
The benchmark price of gasoline will be 6,620 yuan a ton, and for diesel 5,880 yuan a ton, according to the NDRC.
The retail price of gasoline will drop by 0.14 yuan per liter and that of diesel will decrease by 0.16 yuan per liter.
Related readings:


 Gasoline, diesel prices likely to go up again


 Gasoline, diesel prices trimmed by 3%


 China lowers gasoline, diesel prices


 China raises gasoline, diesel prices

It is the eighth fuel price adjustment since the country adopted a new fuel pricing mechanism.
Under the pricing mechanism, the NDRC will consider changing the benchmark retail prices of oil products when the international crude price changes more than 4 percent over 22 straight working days.
The price cut was in accordance with the international price changes, the NDRC said.
The average crude price of Brent, Dubai and Cinta has declined to $71.52 a barrel, down 5.02 percent since the previous fuel price adjustment, according to the Shanghai-based CBI (China) Co Ltd, a leading service provider in Chinese commodity markets.