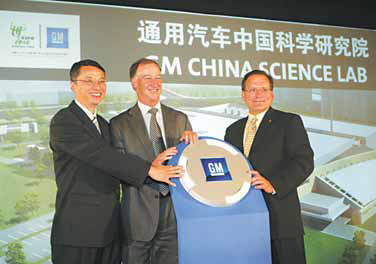 GM executives open the first science lab by a global automaker in China.
General Motors, the largest vehicle producer in China, last week officially launched a wholly owned science lab in Shanghai, its latest move to strengthen local research and development (R&D).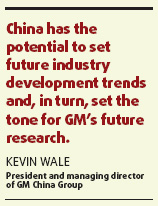 The lab, the first of its kind in China by a global automaker, will focus on advanced propulsion technology, battery cells, mega-city safety research, advanced vehicle development and light materials, GM said.
It is expected to employ up to 100 staff during its early stage of operation.
GM did not reveal cost details.
The move comes 12 years after GM set up Pan Asia Technical Automotive Center Co, a 50-50 R&D joint venture with partner SAIC Motor Corp. Pan Asia, which has 1,200 employees, is responsible for car R&D for GM's China and other Asian markets.
GM's vision for the new science lab calls for "a world-class R&D organization that will help drive GM's automotive business into the future", said Alan Taub, the US auto group's vice-president for global research and development.
Kevin Wale, president and managing director of GM China Group, said that the science lab will enable GM to leverage China's research talent using the company's extensive resources to develop innovations that will benefit of vehicle users around the world.
Related readings:


 GM raising output at 3 US plants


 Production lines roll as GM, FAW team up


 GM China, China's FAW launch joint venture


 GM looks to China for growth
"It will strengthen GM's leadership position through the development of cutting-edge technology," Wale added. "China has the potential to set future industry development trends and, in turn, set the tone for GM's future research."
GM has vehicle producing joint ventures with SAIC and Wuling Motor Corp.
In the first eight months of this year, GM's China sales jumped by 49.6 percent to 1.11 million units from the same period of last year.
In August alone, its sales in China hit a new monthly record of 152,365 units, surging 112.7 percent from a year ago.