Construction of the Sichuan-Tibet railway will begin this month, scol.com.cn, a Sichuan-based news portal reported Tuesday, with details on the railway's scale, direction and number of stops recently released by the China Railway No 2 Bureau in Chengdu, capital of Southwest China's Sichuan province.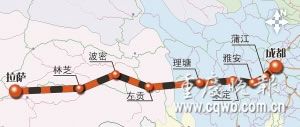 the map of under construction Sichuan-Tibet railway [cqwb.com.cn]
The train will have a designed speed of 200 km/h, taking about eight hours to travel the 1,629-km-long rail line between Chengdu and Lhasa, capital of Tibet Autonomous Region.
Related readings:


 Preparation on Lhasa-Xigaze railway ready


 Tibet funds $5.5M for wetland protection


 Tibet starts building 5th civil airport
There are currently two ways to get from Chengdu to Lhasa -- driving the No 318 national highway, which takes three days, and rail travel from Chengdu, Shaanxi and Qinghai to Lhasa, which takes about 45 hours.
The railway's construction will have to overcome quite a few complicated geographic conditions, such as frozen earth, landslides, cold weather and lack of oxygen due to high-altitude in some parts, and rock slides.
The railway was delayed once before due to construction difficulties and lack of investment.
However, an unnamed person in charge of the project said those factors aren't an issue this time around. "We don't have such problems now in terms of construction technology and investment."
China's existing railway to the Tibet autonomous region is the Qinghai-Tibet railway which runs 1,956 km across the Qinghai-Tibet Plateau from Xining, capital of neighboring Qinghai province, to Lhasa. It went into operation on July 1, 2006.