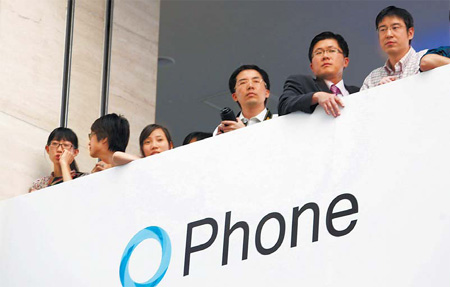 Ophone handsets that can support China Mobile's TD-SCDMA 3G standard will come out this year. Bao Fan
China Mobile yesterday launched its own mobile phone operating system that can support its homegrown 3G standard. It's a significant move by the world's biggest wireless carrier aimed at driving up use of its 3G services by expanding handset portfolios.
The release of the long-anticipated Ophone platform, the world's first mobile phone operating system developed by a telecom carrier, and the Ophone handsets is seen by analysts as a move that could help China Mobile stabilize its slowing profit growth.
The move comes less than one week after the country's second biggest wireless carrier China Unicom clinched a deal with Apple to sell iPhones in China. It is expected to intensify competition in the country's 3G market.
"The release of the Ophone operating system is likely to dramatically cut the costs of developing TD-SCDMA handsets by mobile phone makers," said Wang Jianzhou, chairman of China Mobile. Wang added competitiveness of its 3G handsets would as a result be boosted.
The Ophone platform also fills the blanks in China's smart phone operating system, according to Lou Qinjian, vice-minister of industry and information technology.
China Mobile yesterday also showcased a slew of handsets based on the Ophone system, which were developed by mobile phone makers including Dell, Lenovo, Philips and Samsung.
The Ophone handsets that can support China Mobile's TD-SCDMA 3G standard will come out within this year, the company said, without specifying when.
China Mobile's latest move will further put it in head-on competition with China Unicom and China Telecom in the fledgling yet competitive 3G businesses in the country in which the players are scrambling to win smart phone users because they can bring services revenue while voice call business stagnates.
China Unicom announced last week that it had inked a three-year deal with Apple Inc to sell the popular iPhones in China, the world's largest mobile phone market.
Its chairman, Chang Xiaobing, said yesterday during a conference call with analysts that his company was likely to start selling the popular device on Sept 28, when China Unicom will expand its 3G coverage to 285 cities.
Apple may sell more than as many as 3 million iPhones in China during the next year, according to market research firm Piper Jaffray.
Another carrier, China Telecom, said earlier it was in talks with Canada-based Research In Motion to offer the Blackberry smart phone, which is popular among business people, throughout the country.
China Telecom, which operates CDMA standard 3G services, is also in talks with US phone maker Palm Inc, which makes Palm Pre handsets.
The release of Ophone may give a boost to China Mobile, analysts said.
Related readings:


 China Mobile H1 earnings growth slows on competition


 China Mobile online store out


 China Mobile offers sops to 3G applications developers


 China Mobile to cover 98% of villages

According to a survey on www.sina.com.cn, the largest Internet portal in China, 51 percent of the 2,161 respondents said they might buy an Ophone, attracted by its "powerful" mobile Internet connection and application functions.
Liu Yinglai, a 30-year-old editor, said he might try the Ophone handset rather than the iPhone "because I am a supporter of the homegrown TD-SCDMA 3G standard, but its performance had better not disappoint me".
The launch of Ophone, if it is successful, should help China Mobile to fend off challenges from iPhone, Allan Ng, an analyst at BOC International said.
The Ophone release is the latest effort by China Mobile to rev up its business both in the service segment and 3G market.