In 2008 global foreign direct investment (FDI) fell by around 20 percent, while outward FDI from China nearly doubled.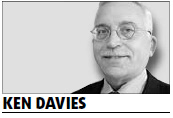 This disparity is likely to continue in 2009 and 2010 as China invests even more overseas. What is driving this continuing surge in China 's outward FDI?
China's FDI outflows took off as a result of the government's adoption and promotion of a "go global" policy aimed at establishing the country's investors as international players.
Having averaged only $453 million a year in the 1982-1989 period and $2.3 billion in 1990-1999, the numbers rose to $5.5 billion in 2004, $12.3 billion in 2005, $17.6 billion in 2006 and $24.8 billion in 2007.
Preliminary figures for 2008 show a rise to $40.7 billion. If financial FDI (not counted before 2006) is included, the 2008 total was $52.2 billion - nearly double the $26.5 billion in 2007.
Anecdotal evidence suggests that China's outward FDI growth continued to accelerate in early 2009.
China 's direct investments in Australia alone reportedly increased from $1.4 billion in the first quarter of 2008 to $13 billion in the same period this year.
If that trend continues, China's FDI just in Australia in 2009 will equal its global outward FDI in 2008.
Acceleration
Five key drivers of China 's outward FDI explain this acceleration.
First, one of the most reported motivations in the international media and in some academic writing is China's need to secure natural resources to fuel rapid growth.
Second, while most of China 's exports are from foreign-owned enterprises, large domestic firms also export large volumes and need services like shipping and insurance.
Related readings:


 China's used FDI down 17.9% in H1


 Outbound investment unlikely to outstrip FDI


 Exports, FDI plunge amid global slowdown
Third, China 's major enterprises are also acquiring global brands, like Lenovo's acquisition of IBM's personal computer business or the SAIC and Nanjing purchase of MG Rover.
Fourth, Large State-owned enterprises (SOEs) that are losing their monopoly position at home are diversifying internationally.
And fifth, some enterprises - despite China's ample labor supply - seek to move their labor-intensive operations to cheaper overseas locations such as Vietnam and Africa.