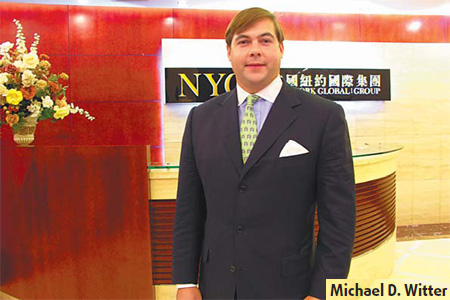 MD Witter Investments LLC is among overseas investment firms redirecting their attention from Wall Street to China to shop for opportunities in the small and medium-sized enterprises (SME) sector.
Together with New York Global Group, a major Wall Street middle market investment banking, due diligence and corporate advisory firms with a decade-long presence in China, Witter intends to raise up to $300 million through the Witter Global Opportunity Fund.
The fund, which will target direct investments in the SME sectors, requires an intended investment target of no less than $2 million in the current year net profits and a 20 percent year-on-year growth rate.
"Wall Street investors are willing to allow Warren Buffet to follow large-cap stocks. For selecting the small- and middle-cap ones, MD Witter Investments is quite influential," said Benjamin Wey, president of New York Global Group.
Michael D. Witter, the third-generation president of MD Witter Investments, was eager to talk about investment prospects in China following a recent trip.
"China has about 60 million SMEs, and the number is increasing by 6 percent to 15 percent year-on-year annually. To be sure, we can find many promising companies in which to invest," Witter said.
During his trip, Witter said he met two entrepreneurs who told him they plan to take their SMEs public on New York's NASDAQ stock exchange.
Related readings:


 Credit help for Chinese SMEs


 Economist: Credit to SMEs key to solid recovery


 SMEs seek easier terms for loan scheme


 SMEs crucial for new job creation
"The two companies are quite good. They are ones that my grandfather would have liked. If he were alive, I think he would have immediately signed the check," Witter said.
Witter's grandfather, Dean Witter, in 1924 founded the company now headed by his grandson.
Witter said his grandfather bought shares in Boeing Co for a bargain price following the 1929 stock market crash in the United States, becoming the aircraft giant's largest shareholder. He also invested in software behemonth Oracle in its early days.
When Witter's father, William D. Witter, became president, the company became one of the first Wall Street firms to go public.
"My mission is to develop business in the emerging market of China," Witter said.
Witter likened his first trip to China to his grandfather's experiences during the Gold Rush of the American West.
Witter said today's SMEs represent a new form of "gold" to be discovered by investors.
MD Witter Investments usually chooses 35 to 45 SMEs each year in which to make investments.
Witter said he would like to copy his grandfather's success at investing in undervalued companies during the Great Depression years of 1929 through the 1930s.
"The current financial crisis offers similar good opportunities," Witter said.
MD Witter Investment's partner, New York Global Group, is in charge of selecting promising SMEs in China, he said.
New York Global Group established a presence in China in 1998.
About 15 percent of Chinese companies listed on the NASDAQ exchange are clients of the investment bank.
"There are about seven Chinese SMEs in the pipeline that are planning to go public on the NASDAQ," Wey of New York Global Group said.
"Many forward-looking entrepreneurs are willing to raise capital in economic downturns to grow faster than their competitors during the economic recovery," Wey said.
Wey was optimistic about the future of the Witter Global Opportunity Fund.
He projected annual yields could reach 40 percent to 60 percent.