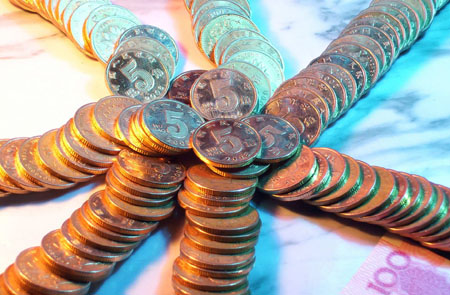 China's central bank yesterday released a rule permitting companies in select cities to settle cross-border trades using the yuan, as part of efforts to reduce reliance on the US dollar for international trade.
Banks will be able to offer yuan settlement services from now on, PBOC said in a statement on its website. It said tax authorities were working on the specific regulations for rebates.
The move, it claimed in the statement, would likely reduce companies' exposure to foreign exchange risks, increase liquidity in foreign trade and cut transaction costs.
"Companies in China and neighboring countries are facing relatively huge risks of exchange-rate fluctuations because of big swings in the US dollar, the euro and other major settlement currencies in the wake of the global financial crisis," the central bank said.
Related readings:


 Wen: Keep the renminbi exchange rate stable


 Renminbi deposits, loans slow down at foreign banks


 Rules unveiled on cross-border yuan settlement 

 Mainland, HK sign supplementary pact on yuan trade settlement
The government in April said it would allow Shanghai and four cities in the southern Guangdong province - Shenzhen, Guangzhou, Zhuhai and Dongguan - to settle international trade in the yuan on a pilot basis. Companies in these cities, and elsewhere, currently have to convert yuan into dollars or other currencies to settle their export-import bills.
The central government approved the use of the yuan to settle cross-border trade with Hong Kong on June 29. The first transactions will start this month, according to Hong Kong Monetary Authority Chief Executive Joseph Yam, who signed a supplementary agreement with central bank Governor Zhou Xiaochuan the same day.
About 50 percent of Hong Kong's trade with the mainland may be settled in yuan after the program starts, Stanley Wong, deputy general manager at Industrial & Commercial Bank of China (Asia) Ltd, said in an earlier interview in May, Bloomberg reported.
Hong Kong companies want to use the yuan for trade because they expect it to appreciate against the US dollar by more than 3 percent annually, he said.
"Hong Kong companies will be very active in yuan settlement trade, and this will help boost the city's financial industry," Ba Shusong, a researcher with the Development Research Center of the State council said yesterday.
Sun Lijian, a professor with Fudan University agreed, saying Hong Kong could act as an offshore financial center that is strong in renminbi and renminbi-denominated securities trading if and when the current foreign exchange mechanism is further reformed.