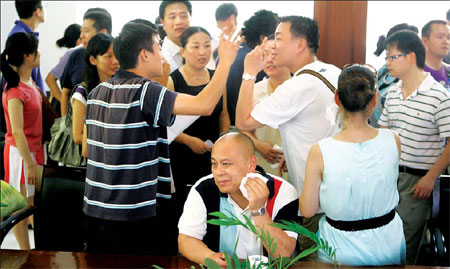 People who bought houses in a building that collapsed Saturday in Shanghai discuss collective action yesterday near the site of the collapse.
Zhou Xuejun, 60, burst into tears and demanded a refund for her residential unit, which she says is unsafe after a nearby building collapsed in Shanghai's Minhang district.
"I can't live there," she cried as she pounded on a desk yesterday at the government reception center set up to deal with the accident. Standing behind her were hundreds of other angry homeowners, who spent millions on similar apartments priced at about 14,300 yuan ($2,090) per sq m.
Sheng Shunchang, a homeowner, said: "I want my money back and compensation for the price gap when I buy a new property, considering the soaring property prices."
The residents have bought units at 11 apartment blocks in the "Lotus Riverside" residential community, which is under construction on the eastern outskirts of Shanghai.
About 5:40 am on Saturday, one of those buildings fell on its side, almost intact. Pillars that were supposed to be buried deep under the earth were uprooted. A 28-year-old worker surnamed Xiao from Anhui province was killed as he collected his tools from the falling building.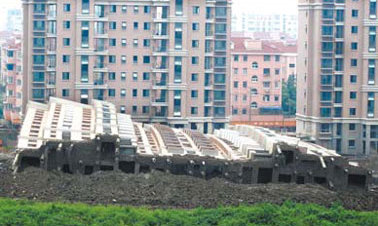 The 13-story apartment building, which was under construction, toppled over almost intact, killing one worker. [China Daily]
Meanwhile, it has emerged that the developer, Shanghai Meidu Real Estate Company, has been working illegally because its construction license expired in 2004.
Zhang Suping, who lives across the river from the collapsed building, said his family and neighbors were woken at dawn by the falling building.
"I thought it was an earthquake and I ran downstairs, where I found other neighbors looking at the collapsed building," he said.
About 132 households across the street were evacuated, and 120 families moved to hotels paid for by the district government.
Shanghai mayor Han Zheng and Party secretary Yu Zhengsheng have ordered an investigation into the collapse.
An initial investigation found that the rest of the buildings are safe. "An investigation team formed by experts found that by 6 pm of Saturday, none of the other 10 buildings have tilt, shift or sank," the report says.
"And government departments have also found no leaking, cracks or moving of gas pipes, power wires or water pipes. They all meet the safety standards and chance of a secondary disaster is low."
However, Xu Jianping, who signed a contract for an apartment in one of those buildings only 10 days ago said: "I dare not move in."
Most residents are demanding refunds and compensation, but experts doubt whether their claims will be successful. Zhang Qi, a man in his 50s, said he wants his money back and compensation of an equal amount. Zhang and his new wife bought a property in February with a loan of 450,000 yuan.
"We are paying back the bank," he said. "I won't be able to afford another property nearby even if I get my money back."
Zhou Xuejun, another owner, said she was devastated because she had spent her life savings and borrowed 400,000 yuan to pay for the unit that she not dare to move into now.
Si Weijiang, a lawyer, said the refund and compensation claims would depend on the result of investigations.
"Buyers of the collapsed building will definitely get their money back, but it is not sure if others who still have their property will," he said.
Related readings:


 Realty sector needs reality check


 Recovery on as property sales surge


 Building collapse kills one worker in Shanghai


 After fatal lesson, China builds stronger school in quake zone

"According to Chinese law, they cannot have their money back or be compensated unless it is proved that their properties are too dangerous to live in even after renovation.
"And as I see it, courts rarely support compensation claims for price gap in such situations."
An architect surnamed Meng with Shanghai Xian Dai Architectural Design Group told the Shanghai Morning Post: "The builder should have taken into consideration the riverside location and loose soil."
On Friday, some residents said they saw that the anti-flood bank of nearby Dianpu Lake was broken after days of rainfall.
It is also suspected that piled-up mud, about the height of 3 to 4 floors, which had been dug out from under the buildings had caused the ground tilt, and that this led to the bank break and the building collapse.
Sub-standard construction has been a major concern in the building sector, as the country rolls out enormous city expansions and finishes off vast infrastructure projects to keep pace with fast economic growth.
The Shanghai government yesterday ordered developers to ensure safety during the construction of all projects.