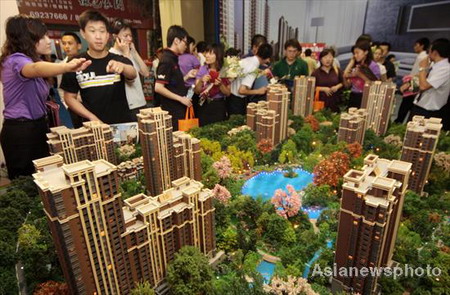 People look at a housing project at a real estate exhibition in Beijing on June 25, 2009. [Asianewsphoto]
Tax authorities have started scrutinizing the books of realtors in China, according to a highly placed industry association official.
Huayuan Real Estate President Ren Zhiqiang, who is famous for being outspoken, said in his blog that a number of property developers have received notices from the State Administration of Taxation.
"The checks are mainly to ensure that there is no tax dodging or tax evasion, especially when the country's fiscal revenue is falling," said Ren.
According to Finance Minister Xie Xuren, the government's fiscal revenue in the first five months declined 6.7 percent, or 195.6 billion yuan, over the same period last year.
"The checks are also aimed at gauging the overall cost of a residential apartment," Ren said.
The tax authorities' check, following the recent investigations of the Ministry of Land and Resources and the National Bureau of Statistics, is part of the government efforts to get to the bottom of the cost of a residential apartment.
Disputes on whether the existing high property prices are driven by high land and taxation costs persist after All-China Federation of Industry and Commerce released a report during the National People's Congress and the Chinese People's Political Consultative Conference sessions in March this year, which said that land and taxation accounted for 50 to 60 percent of the overall housing price.
Related readings:


 High tax won't cut number of smokers


 Cigarette tax increased to cut smoking


 To raise revenue, China turns to tobacco tax


 Experts push for raising tax threshold
An official from the Ministry of Land and Resources said on Tuesday that the land cost accounts for 23.2 percent on average among the overall cost, lower than the international average.
"According to the ministry's survey covering 620 real estate projects across different regions, the land cost accounts for only 15 to 30 percent, much lower than the 60 to 75 percent in Japan and 50 to 65 percent in South Korea," said Lu Xinshe, vice-minister of land and resources.
All these investigations, experts say, are important to make the property developers' pricing scheme more transparent, thus making it easier for the government to shape new real estate polices.
"It is also the government's function to understand the fundamentals of the market, which will facilitate an overall balance between supply, demand and pricing," said David Hand, head of investments at Jones Lang LaSalle China.