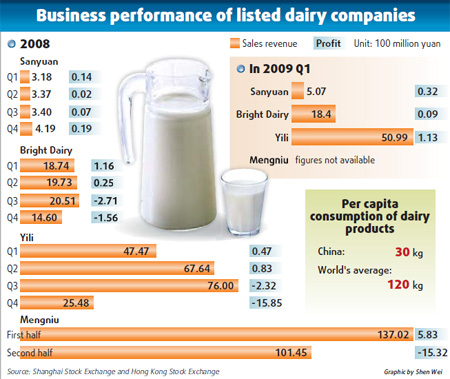 A battle between two Inner Mongolia-based dairy giants - Yili and Mengniu - over the past decade has become even more intense as they fight to recover from last year's tainted milk scandal.
The two brands were caught up in the melamine morass that brought damaging global attention and plummeting sales to China's daily industry. As they fight their way back, it appears Yili has scored a coup as the official dairy group for next year's Shanghai Expo.
In late May, Inner Mongolia Yili Industrial Group (Yili), China's second largest dairy producer by sales in 2008, announced that it has been appointed by the Shanghai World Expo Business Coordination Bureau as the only dairy sponsor for the 2010 event.
The sponsorship does not only mean potential profits - the company says more important is the sign of national recognition that could further enhance awareness of the Yili brand.
More than 70 million visitors from home and abroad are expected for the Shanghai Expo, where all of Yili's products from milk and yogurt to ice cream and milk powder will be displayed and provided at all venues and facilities.
The cost for sponsorship is high, but it is well worth it, said Zhang Jianqiu, executive president and spokesperson of Yili.
"It provides Yili a nice opportunity to show itself and to explain to the world that the brand really means quality, so why not?" Zhang said.
Related readings:


 China milk scandal dragged Yili Group into losses


 Dairy producer Yili projects loss in 2008


 Dairy producer Yili projects loss in 2008


 Mengniu, Yili pledge stringent milk tests
Yili is now working on new quality standards tailored for the Shanghai Expo that will be implemented soon and followed in the future.
The milk war has been played out on many fronts including sponsorship at China's premier events.
An executive from Mengniu who spoke to China Business Weekly on the condition of anonymity said "it is good to be a sponsor", yet his company failed to seal a sponsorship position at the Beijing Olympics last year.
Yili, for its part, was the sole dairy sponsor at the Olympics.
"We tasted the sweetness of Olympics sponsorship," Zhang said. But the taste of glory lasted just a short time before the melamine scandal beginning last September tarnished most of the industry's producers.
But Yili has been the quickest to recover. The company's first quarter financial report said its profit surged an astonishing 104 percent from a year earlier to 113 million yuan while the third-largest producer, Bright Dairy, said it earned a profit of 8.75 million yuan from January to March.
Although Mengniu did not release figures, industry experts said it is unlikely that its business outperformed Yili, considering the blow to Mengniu from another scandal early this year when the imported additive osteoblast milk protein (OMP) was discovered in one of its high-end products.
While it was found not harmful to humans, OMP is not approved for use in China.
The company stopped using OMP in February, but the revelation further dampened consumer confidence in Mengniu. According to corporate executives, sales of Mengniu's "Milk Delux" was almost zero for quite a few days after the OMP news broke.
Yili's efforts
For Yili it created an opportunity to take the market share Mengniu momentarily lost and promote its high-end milk products, which are the most profitable.
Yili launched a nationwide promotion for its high-end categories after the Spring Festival in late January and "it proved to be big success", Zhang said.
"Our top dairy products such as Satine and Low Lactose Milk generated the biggest profits in the first quarter," he noted.
Yili expects growth to continue through cashing in on the Shanghai Expo "Now is the best time to grow ourselves," Zhang said.
Yang Wenjun, president of Mengniu, told China Business Weekly that the company's sales have recovered to about 90 percent of their previous level, but while his company recovers, Yili is looking to sustained growth.
"It's easy to tell that Yili is the industrial leader," said Tang Aijun, mayor of Huhhot, capital of Inner Mongolia.
According to its 2008 annual financial report, Yili set an ambitious target of 500 million yuan in profit on sales of 21.6 billion yuan this year.
The company also said it aims to improve its profitability by adjusting its product mix and increasing the ratio of mid- and high-end products to about 40 percent.
Though a newcomer to the industry, Mengniu grew from a small potato farm to China's leading dairy producer in only seven years. The company's practices in innovation and sports and event marketing were widely followed by its peers before its recent troubles. But Mengniu incurred losses of 948.6 million yuan last year.
"It does not matter who is the leader and it is also too early to say who is the final winner," Yang said.