China added to the drip-feed of encouraging news yesterday with a top central banker saying the government's stimulus has worked better than expected and crude imports data showing a spike in demand.
Related readings:


 Stimulus fineprint for metals out


 Stimulus package has started bearing fruits


 Official urges proper implementation of stimulus packages


 Consumption stimulus plan takes initial effect
Global stock markets have rallied in recent weeks on hopes the US economy will start growing again later this year and that banks were getting back on their feet after the industry was caught in the worst financial crisis in six decades.
China also plays a big part in the recovery scenario with many economies in Asia relying on Chinese demand and markets scrutinizing Beijing's data for any signs of global demand bottoming out.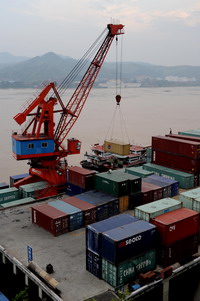 Imported crude oil being unloaded at a port in Ningbo, Zhejiang province. [China Daily]
"China's economy is expected to sustain rapid growth for some period in the future," deputy central bank governor Su Ning told a financial conference.
Premier Wen Jiabao pitched in, too, saying that the government's response to the financial crisis went far beyond its $586-billion stimulus and suggested it would be rolling out new initiatives throughout the year.
Investors around the world also greeted with relief last week's results of stress tests of 19 biggest US banks, with regulators ordering 10 of them to raise nearly $75 billion of capital - less than estimated.
Su's comments coincided with Beijing's release of April price data that showed both consumer and producer prices kept falling last month. But markets saw the falls as a natural reaction to last year's surge in prices rather than a symptom of weak demand, with analysts predicting a return to moderate inflation in the second half of the year.
In yet another sign that China's industry was pulling out of a deep slump late in 2008 and early this year, crude oil imports in April jumped 13.6 percent from a year earlier, a source said. That was the first annual gain this year and the second-highest daily rate.
Chinese officials have sounded increasingly confident in the past weeks that the economy can regain traction and meet the government's 8 percent growth goal this year. In a sign of growing optimism about the US economy, an influential survey of private forecasters predicted it would resume growth in the third quarter and expand 1.9 percent next year after shrinking 2.8 percent in the whole of 2009. The forecasts are more optimistic than the IMF's latest outlook, which saw the US economy stagnating next year.