Gome, China's largest consumer electronics retailer in terms of number of stores, announced yesterday that its net profit for 2008 fell by 7 percent from a year earlier, the first ever since listing. Sales surged by 8 percent during the same period.
Related readings:


 Gome goes in for mega stores push


 Gome to employ 20,000 migrant workers


 CDB, Citibank 'in talks to buy Gome stake'


 Gome may swap shares for capital
Company executives attributed the profit decline to the sluggish electronics market in the country due to the financial crisis, and more importantly, to the ongoing investigation of Gome's founder Huang Guangyu who was in police custody for alleged illegal share trading in early November.
Gome's business performance was, however, overshadowed by that of Suning, the second largest player in China, which released its financial report in February.
As Gome's 2008 financial report showed, the company posted a profit of 1.05 billion yuan last year, falling from 1.13 billion yuan in 2007, on sales of 45.9 billion yuan.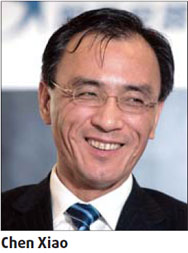 The company said it had made a significant loss of 540 million yuan during the last quarter of 2008, dragged down by lower corporate sales from October to December, which were on average less than that of the previous three quarters.
During the nine months ended September, Gome's profit soared by 111.55 percent to 1.59 billion yuan, and its sales stood at 36.4 billion yuan. But the company generated sales of only 9.5 billion yuan in the last quarter. Sales were on average around 12.1 billion yuan during the previous three quarters.
Gome's rival Suning posted better results for 2008. Suning's profits surged by 48 percent from a year earlier to 2.17 billion yuan, twice that of Gome, on sales of 49.9 billion yuan, which was 4 billion yuan more than Gome's.
"Gome is now past its most difficult period, and its business performance for 2008 was healthy and solid," Gome Chairman Chen Xiao said.
Last year was quite a challenge for Gome and its peers as China's consumer electronics market slowed. Gome was also affected by the investigation into the scandal concerning its founder Huang Guangyu who is still in police custody.
"The investigation was another key factor that led to the business contraction," He Yangqing, Gome's spokesperson, said.
Since the investigation began, many suppliers turned their backs on Gome and commercial banks became unwilling to grant loans to the company, it was reported.
But the Gome chairman was upbeat about its future. "Gome is in the process of transformation. We are committed to offering the best quality products and services," said Chen Xiao.
Early this year, Gome announced that it would focus its business away from expansion on to improving sales and profit per store by optimizing its network.
By end-2008, Gome had 1,300 stores nationwide, and the company said there would be no change in the number of stores this year. Gome is transforming its stores into more profitable mega stores.
Suning, however, is catching up. Last year, Suning said it wanted to be the number one player in the country's consumer electronics market within three years. The company also said it would have 200 additional stores this year, from the 850 it had by end-2008.
Analysts have said China's consumer electronics retailing market is likely to contract this year.