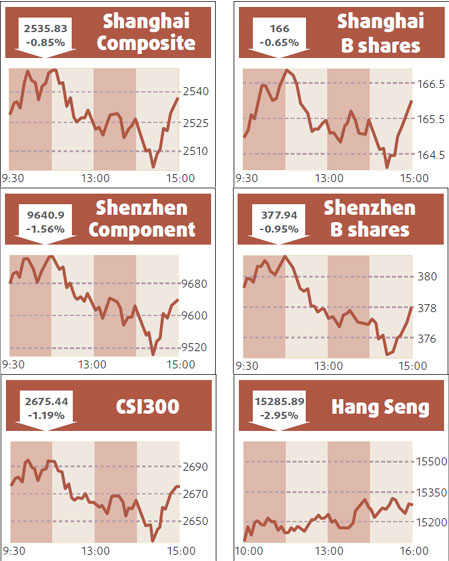 The mainland stocks slipped 0.85 percent in active trade yesterday, knocked by a drop in financial, energy and metals shares as renewed concerns about the financial crisis weighed on stock and commodity prices overseas.
The Shanghai Composite Index ended at 2535.828 points after hitting a low of 2499.601 points. It had climbed on Monday to an eight-month closing high. Turnover in Shanghai A shares rose to 154.6 billion yuan from Monday's 140.1 billion yuan.
A jump in bad loans at Bank of America, the largest US bank, rekindled fears about the state of the banking sector globally and pushed prices of industrial commodities such as oil and copper sharply lower.
Related readings:


 Hong Kong stocks close 2.95% lower


 Chinese shares slip 0.85% on financials, resources


 Shares increase 2% on Wen's comments


 Hong Kong stocks close 0.96% higher
Analysts said active turnover and expected technical support at the psychologically important 2500 point mark should limit the Shanghai index's losses, however, and could set the stage for a renewed assault on its recent highs in coming days.
"Investors are jittery after the slump in overseas markets, but the index is not expected to fall too much and investors might be lured back to the market if overseas markets stabilize," said Huatai Securities analyst Zhou Lin.
Frank Gong, chief China economist at JPMorgan Chase, said yesterday that the Shanghai index was likely to hit 2800 to 3000 points this year, with a bull market now in its beginning stage as the Chinese economy had bottomed out.
Xiangcai Securities analyst Wu Nan added: "The correction today was smaller than expected. The index came off of its low, suggesting that sentiment is supported by investors' general confidence in China's economic recovery, but risks are growing as the index rallies."
Banks were lower, with Industrial and Commercial Bank of China, China's biggest lender, off 0.96 percent at 4.12 yuan while Hua Xia Bank sank 4.37 percent to 10.5 yuan despite posting a 46 percent jump in earnings last year.
Coal shares were weak, with Shenhua Energy losing 2.51 percent to 23.73 yuan.
Yunnan Copper, China's third-largest copper producer, sagged 2.39 percent to 20.4 yuan after saying its production in the first quarter fell 34 percent from a year earlier.
HSI down 3%
Hong Kong shares marked their biggest drop in two weeks, falling 3 percent yesterday as HSBC slid on a surge in bad debts at Bank of America while China Mobile succumbed to selling pressure after its first quarter earnings.
The benchmark Hang Seng Index ended down 465.02 points at 15285.89. Shares worth HK$57.5 billion had changed hands compared with Monday's HK$57.1 billion.
The China Enterprises Index of top mainland companies was 2.1 percent lower at 9039.09.
Reuters