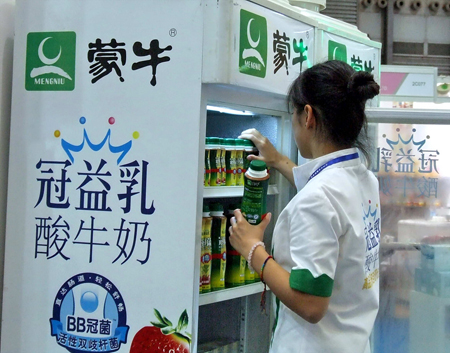 A Mengniu Dairy booth at a food expo in Shanghai in this file photo. [Jing Wei]
China Mengniu Dairy, the largest liquid milk producer on the mainland, slipped into a net loss in 2008, its first since the 2004 listing in Hong Kong, hurt largely by the tainted milk scandal in the second-half.
The dairy products maker said it incurred a full year net loss of 948.6 million yuan in 2008, compared with a profit of 935.8 million yuan in 2007.
The milk scandal, together with the write-off of certain products, and the additional costs incurred for raw milk disposal and promotional campaigns, contributed to a full year loss before interest, taxes, depreciation, and amortization of 461.7 million yuan.
Related readings:


 Mengniu expects $131m loss due to melamine


 Melamine scandal costs major dairy maker millions


 Mengniu still going strong


 Mengniu debut soars 24%
"Due to the operational deficit, we have decided not to pay a final dividend this year. I, on behalf of the management team of Mengniu, apologize to our shareholders," Yao Tangshan, executive director and chief financial officer, said yesterday.
Due to the rising raw milk price, as well as the increasing product promotion and introduction of raw milk safety measures in the second half of 2008, gross profit of Mengniu dropped 2.8 percent to 4.67 billion yuan, while gross profit margin declined 2.9 percentage points to 19.6 percent.
Although Mengniu's gearing ratio surged to 36.5 percent in 2008, Yao said the company's financial situation is still healthy, while it currently has no plans to go for further financing.
Liquid milk segment continued to be its major revenue driver in 2008, with revenue jumping 10 percent to 21.07 billion yuan, accounting for 88.3 percent of the total revenue.
Executive Director and Vice-President Yang Wenjun said sales of the company's milk products have already recovered to 80 percent of the sales before the milk scandal broke out in September 2008.
"We hope we can have good sales in 2009," Yang said.
Jiang Zhihui, a Shenzhen-based food and beverage analyst at Daoheng Securities, expects the dairy firm to "fully regain its strength in 2010" as the company management's prompt rescue measures after the melamine incident has helped secure its market share.
"After the (melamine) incident, we should not judge the company only by its profit making capability. It has done a great job in just maintaining its foothold in the market," Jiang told China Daily.
The company will not record substantial revenue losses, but its profit margin is expected to drop further this year, he said.
Shares of Mengniu declined 5.62 percent to close at HK$12.42 yesterday.