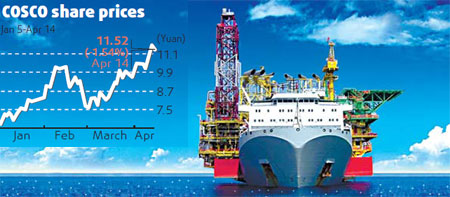 Dwindling global trade may have impacted profitability at COSCO Shipping.
The company, a unit of the country's biggest shipping enterprise China Ocean Shipping (Group) Co (COSCO), predicted that net profit for the first quarter would fall by over 50 percent from 357 million yuan in the same period of last year.
The company posted its best performance ever in 2008, thanks to robust growth in the first three quarters of the year.
COSCO Shipping's net profit last year soared by 34.86 percent year-on-year, to 1.45 billion yuan, on sales of 6.9 billion yuan, up 29.59 percent on a yearly basis. Earnings per share last year was 1.11 yuan.
Related readings:


 COSCO H1 net profit doubled


 COSCO Shipping reports 140% growth in H1


 Shipping firm slows its vessels to save on fuel


 COSCO orders 4 container ships for $280m
Although China's shipping industry posted a profit of 1.3 billion yuan last year, COSCO and other large shipping companies are already feeling the pinch.
The World Trade Organization has predicted that the financial crisis would drag global trade down by 9 percent this year, the largest contraction since World War II, and that developed nations would see a larger contraction than developing countries.
Although China's economy is widely expected to be among the first to recover, there has been no sign of a pick up in world trade so far this year. Indeed, economists have said that the financial crisis was reshaping the international market place and that could result in a fundamental shift in the global trade pattern.
And, the contraction in foreign trade has affected shipping companies severely. Customs data released last Friday revealed that the country's imports and exports contracted by double digits in March from a year earlier, the fifth monthly drop in a row.
Government officials and analysts said the downward trend would continue although the fall in trade numbers would start to ease off in the second and third quarters of the year, with mild growth forecast for the last quarter.
COSCO Shipping said in its 2008 financial report that this year would be the hardest ever for the company. It said it had not pursued new ship orders last year fearing unsold inventory.
Among the 84 ships that COSCO operates, 69 are break-bulk ships that are more vulnerable to an economic turmoil. The business from the sector fell steeply in the last quarter of 2008, the company said.
COSCO said it would gradually withdraw break-bulk carriers, and seven such carriers are no longer in service.