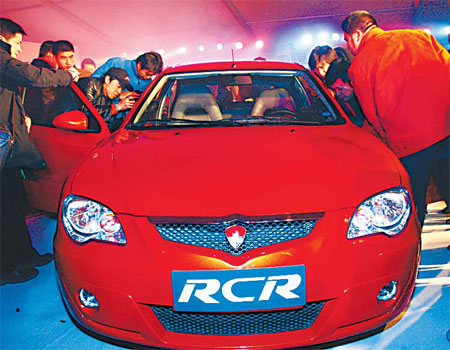 Visitors peep into a RCR car, jointly manufactured by Guihang's major shareholder China National Guizhou Aviation Industry Group Co Ltd and British partner Lotus, in Beijing. [CFP]
Guizhou Guihang Automotive Components Co yesterday posted a 14 percent drop in full year net profit, hurt by slowing automobile sales and rising costs.
The automobile parts manufacturer based in Southwest China's Guizhou province said it intends to make acquisitions at the appropriate time and leverage on its status as a listed firm.
Related readings:


 China details auto stimulus plan for rural residents


 Auto sales in China up 25% in February


 Domestic car sales up 12.4% month-on-month in Feb


 China aims to cut auto groups to 10 from 14

Net profit for 2008 fell to 68.83 million yuan from a year earlier, while revenue rose 8 percent year-on-year to 1.46 billion yuan, the Shanghai-listed company said.
The company, which has set a revenue target of 1.6 billion yuan for this year, said overseas sales plunged 46 percent in 2008 from a year earlier as orders from its major markets in Europe and America plummeted.
Guizhou Guihang said its production costs went up 34 percent in 2008 as raw material prices soared in the first-half.
Shares of the company rose 2.48 percent to close at 12.80 yuan in Shanghai trading yesterday.
The company, a subsidiary of State-owned aircraft maker AVIC I, had last month said it was planning to issue up to 110 million shares at a price of 8.03 yuan per share to China National Guizhou Aviation Industry Co and Guizhou Gaike Aerospace Mechanical & Electrical Co. The share placement is being made to buy the three wholly-owned aviation and auto parts manufacturing subsidiaries of the two companies.
The acquisition, which still requires shareholder approval, will enable Guizhou Guihang to diversify into aviation parts manufacturing business.
"As the automobile industry is unlikely to recover in the near term, the outlook for Guizhou Guihang's automobile parts manufacturing business is not that rosy," said Pang Lingling, analyst, Southwest Securities in a research note.
"Its aviation parts business, though a very small portion at present, will become its major growth engine in the future," Pang said.
The major shareholder China National Guizhou Aviation Industry Co, Pang said, is likely to add other aviation assets like engine manufacturing in the future.
The company also stands to gain from the country's efforts to develop its own regional jets and larger commercial passenger jets, analysts said.
Its parent company AVIC I has a commercial jet arm AVIC I Commercial Aircraft Co, which develops and makes regional jet ARJ21.
The automobile parts maker, whose profit margin declined from 22 percent in 2007 to 19 percent last year, said it would focus on "cost-cutting" efforts this year to cut production and management costs.