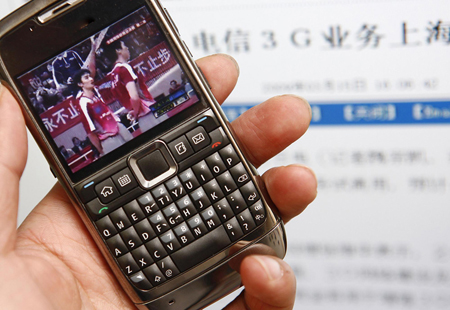 China Telecom, the country's largest fixed-line operator, started trials of the third-generation (3G) mobile services in Shanghai on Monday, and plans to extend the same nationwide next month.
Related readings:


 China Telecom to buy 20m 3G phones for service launch


 Foreign operators ready to ride China's 3G wave


 Chongqing to build China's first 3G industrial base


 China Mobile to start 3rd round bidding for 3G gears

Shanghai Telecom, China Telecom's subsidiary, said it would invest 6 billion yuan on various projects including the 2010 Expo, 3G-network construction, and enterprise services this year. About one-third of the total capital would be used for 3G network construction, said Zhang Weihua, general manger of the Shanghai-based company.
According to the operator, the speed of its code division multiple access (CDMA) 2000-based network is 3.1 megabits per second, 20 times faster than the 2G network.
"China Telecom's operations in Shanghai is more solid when compared to other cities, hence the decision to chose the city first for 3G trials," said Zhang Yanling, analyst, iResearch Consulting Group.
Shanghai Telecom said its 3G signals have already covered the area within the city's outer ring, and a total of more than 2,000 3G base stations will be built by the end of this year.
In addition, as of March 15, about 4,000 public areas in the city have been deployed with WiFi hotspots. The network will be extended to over 5,000 units before 2010.
China Telecom's president Shang Bin said last month that the company planned to have 35 million new CDMA network users this year, and to extend the number to 100 million over three years.
"China Telecom can offset its weakness in mobile operations by strengthening its 3G services to compete with its rivals China Mobile and China Unicom. However, user's reception of 3G services is still pending given the incomplete CDMA network and the absence of multinational mobile phone makers like Nokia in CDMA2000, " Zhang said.
The central government awarded the long-anticipated 3G licenses to the country's three incumbent operators, China Mobile, China Unicom and China Telecom this January.
China Mobile, the largest domestic cellphone operator, launched the pre-commercial 3G services based on homegrown TD-SCDMA last April in eight cities including Shanghai. By the end of 2008, the standard had attracted 75,600 subscribers in Shanghai.
The Ministry of Industry and Information Technology has forecast that the total investment in 3G would touch 170 billion yuan this year. It has also estimated that the 3G services would attract nearly 400 billion yuan worth of investment over the next three years.