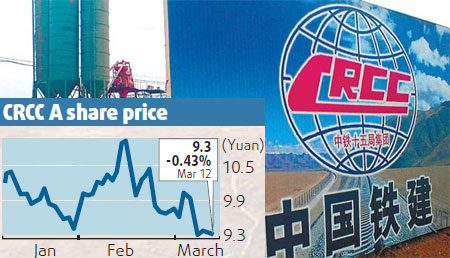 China Railway Construction Corporation (CRCC) yesterday announced that its subsidiaries have won railway construction contracts worth as much as 28.12 billion yuan in China, less than one month after the company won a similar $1.77 billion contract in Saudi Arabia.
The country's largest railway and highway builder said its subsidiaries would take part in the construction of four railways in the Guangxi Zhuang autonomous region, Zhejiang and Gansu provinces.
Related readings:


 China Railway Construction wins part of $1.8b Saudi deal


 CRCC gets railway contract in Libya


 CRCC grabs $3.65b railway contracts


 Rail builder to raise $3.1b in IPO

The value of the contracts is equivalent to 15.84 percent of the company's 2007 sales under domestic accounting standards, the Hong Kong and Shanghai-listed company said in a stock exchange filing yesterday.
The A-shares of the railway builder remained virtually unchanged yesterday, declining 0.43 percent to close at 9.3 yuan.
The massive contract, analysts said, will help boost the company's performance.
CRCC, as one of the 141 State-owned enterprises administered by State-owned Assets Supervision and Administration, said earlier that it will put more efforts into domestic infrastructure construction as the government aims to beef up that sector.
Due to the financial crisis, CRCC's overseas activities may go slower or in a steady fashion, Huo Jingui, vice-secretary of the company's Party committee, told Xinhua in December.
"CRCC and its major rival China Railway Group Limited, among other construction contractors, will benefit most from the stimulus plan, as railway construction will constitute a great part in the plan," said Han Qicheng, analyst with Guotai Junan Securities.
China's railroad lines in service were expected to reach 120,000 km by 2020, Lu Dongfu, vice-minister of railways, told a press conference last year.
To that end, the country would spend 5 trillion yuan until 2020 to add another 41,000 km to its already extensive but strained rail network.
CRCC, builder of Shanghai maglev train rails, said operating revenue in the first three quarters of 2008 totaled 135.33 billion yuan. It has yet to release its full-year earnings.
CRCC won a $1.77 billion contract in the Kingdom of Saudi Arabia earlier this month to build an 18.06 km light rail in the Middle East country.