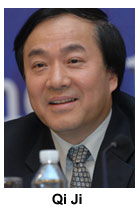 The central government will spend more than 40 billion yuan ($7 billion) this year to improve 2.6 million low-income urban families' living conditions.
More than 33 billion yuan will go to low-rent housing projects, vice-minister of housing and urban-rural development Qi Ji said yesterday on the sidelines of the ongoing National People's Congress session.
Related readings:


 China to spend 33b yuan for low-rent housing


 'Low-rent housing key to help poor'


 Low-income housing plan under work


 China plans multibillion yuan budget for low-rent housing program

"It is a remarkable increase," Qi said.
"This figure (33 billion yuan) is several times that of 2008 and is 10 times that of 2007."
In addition to the central government's fund, local governments will use their treasury bonds to support housing.
This year, China will issue 200 billion yuan in local treasury bonds, mostly to be used for constructing infrastructure and improving citizens' livelihoods.
"So this year, the housing security project will enjoy sufficient financial support," Qi said.
The Ministry of Land and Resources will also ensure the land supply for low-income housing, he said.
The housing security project also addresses other social groups' needs.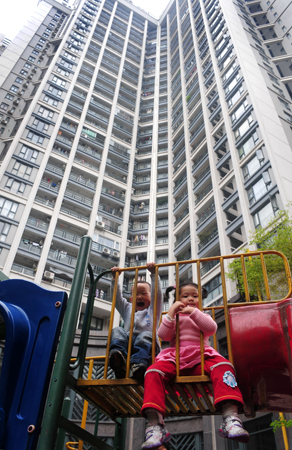 Two children play in a residential area in Guangzhou, capital of Guangdong province. Prices of newly built housing in Guangdong's Shenzhen and Guangzhou have respectively dropped by 16.3 percent and 8.9 percent from last year. Xinhua
The government will build affordable housing for low-income families with some ability to pay and develop publicly leased housing for middle- and low-income families, such as those of newly employed and migrant workers.
"We are striving to achieve the goal of adequate housing for all," Qi said.
Premier Wen Jiabao said in this year's government work report that China should try to address the housing problems of 7.5 million urban low-income families and 2.4 million squatters living in forests, and reclamation and coal mine areas, in the coming three years.
China should also expand the scope of pilot programs to renovate hazardous rural buildings.
The report also said there were about 10 million low-income families with per-capita housing floor spaces of less than 10 sq m in 2005.
Thanks to continuous investment in the housing security project, by the end of 2008, more than 2.53 million low-income families had improved their living conditions, moving into low-rent apartments or reconstructed squatter settlements.
Every low-rent apartment's floor space should not exceed 50 sq m, and the average size of such apartments in most cities is about 40 sq m, Qi said.
"Accelerating construction of low-income housing is also important to increasing investment, boosting domestic demand, and promoting stable and rapid economic growth," he said.
The latest National Bureau of Statistics figures showed housing prices in 70 of China's major cities had fallen by 1.2 percent from last year, 0.3 percent less than the January figure.
The price of newly built housing in Shenzhen and Guangzhou had respectively dropped by 16.3 percent and 8.9 percent during the period.