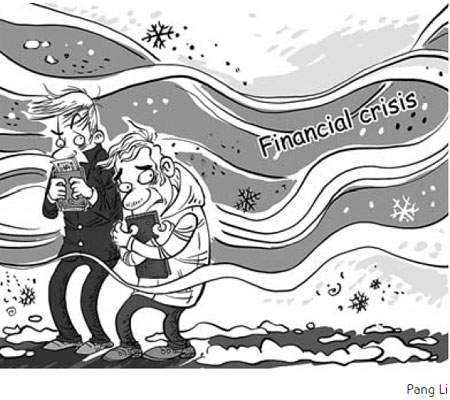 Consumer sentiment in China continued to fall in February on mounting uncertainties about the economic outlook and job security, according to market research consulting firm DDMA.
Related readings:


 Consumer confidence 'hits 6-year low'


 Consumer confidence index drops in Q3


 Consumer mood signals recession


The company's monthly Chinese consumer sentiment index fell by 9 points in February to 91 points, while concerns about the economy increased by 7 percent to 45 percent compared to a month earlier.
The survey, which covered 600 urban Chinese residents across five major cities, including Beijing and Shanghai, showed that over 85 percent of consumers are now worried about the economic outlook, while those who are concerned about their own job security increased by 5 percent to 26 percent.
"The decisive steps taken by the government have calmed consumers. However, 52 percent of the survey respondents work in companies that are cutting costs, while 27 percent work in firms that have recently laid off people. These direct experiences undermine sentiment, create uncertainty and lead to a reduction in consumer spending," said Sam Mulligan, director, DDMA.
Grace Liu, who was not part of the survey, lost her job with an American travel company in Beijing last December.
"I stopped buying my favorite luxury collections, like Louis Vuitton handbags, and even chose to eat at home after being laid off," said the 27-year-old, who has yet to find another job. "The jobless number has risen 9 percent in February. Consumers are more pessimistic about the labor market outlook for the next six months and are highly concerned about business conditions in their cities," according to the report.
Yin Weimin, China's human resources and social security minister, said yesterday that the registered urban unemployment rate hit a three-year high of 4.2 percent.
Shanghai and Guangzhou, which are largely dependent on international trade, face the largest challenges and will take a longer time to recover, Mulligan said.
The survey also pointed out that consumers remain cautious and are reducing spending on non-essential items like branded clothing (34 percent), and deferring purchase of large ticket items, including housing and cars.
However, the long-term outlook for domestic and local economy improved considerably with 47 percent of the respondents expecting the economy to recover next year, up 12 percent from January.
The government has come out strongly and decisively since January, and the message and actions in dealing with the economic downturn have been clear and concise.
"The Chinese government is in a much stronger position to deal with the economic crisis than many of its Western counterparts. The government stimulus plans (therefore) have a soothing and calming effect on the Chinese consumer and this goes a long way to support consumer sentiment," Mulligan said.