The Chinese economy is showing slowing growth, its stock market has crashed by more than 50 percent and property prices in many cities are tumbling. Worried about losing jobs and falling income, many domestic consumers, especially in large cities, are tightening their purse strings. This has directly affected the fortunes of department stores and quite a few inadequately-capitalized small boutiques.
Bosideng, China's largest down clothing maker, has not been spared the beating either.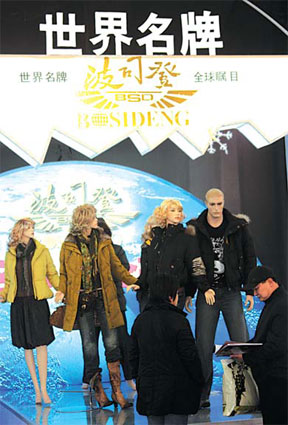 A Bosideng store in Beijing. CFP
The company's net earnings in the six months ended Sept 30, 2008 tumbled by 81.4 percent from a year earlier, to 50.9 million yuan. On Feb 19, the company issued a profit warning, saying net profit for the 2008 fiscal year would decline compared to the 1.12 billion yuan it earned during the previous fiscal.
The next day, on Feb 20, its share price dropped from HK$0.63 a share to HK$0.58, a decline of 7.94 percent.
But, instead of lying low to ride out the economic tsunami, Bosideng is moving to consolidate its lead in branding, ferreting out overseas acquisition opportunities and improving the quality of its products.
"I am not worried" about the recession, said Bosideng's chairman and chief executive officer Gao Dekang.
"I was a farmer, a tailor and then an entrepreneur who turned a workshop with 11 workers in a small village into a clothing empire with 8,000 stores, 19,000 employees and sales of more than 22 billion yuan a year. What's more, I did all that in a mere 22 years," he said.
During that time, "I've gone through enough ups and downs not to be scared of this economic hiccup," he said.
"In the Chinese alphabet, the character that stands for 'crisis' always goes with the word 'opportunity'," he pointed out.
Bosideng's CFO Mak Yun-Kuen said the company's unsatisfactory sales performance in the April-September period was due to a strategy adjustment. He attributed the reduction in sales to the merger of smaller outlets that would make way for self-owned stores.
Ji Wanqing, branding director of the Hong Kong-listed Bosideng International Holding Co Ltd, said the company had no plans to cut advertising spending this year despite the economic gloom. What it would do is shift more advertising spending to TV and the Internet from newspapers, magazines and outdoor ads, he said.
Bosideng attracted huge attention in November 2008 when it won the hotly-contested bid for the prime time spot on CCTV for 220 million yuan, against a host of domestic and foreign consumer goods vendors, some of whom had sales that were many times larger than it.
"It's a well-known fact in marketing that spending 1 yuan on branding during a downturn has as big an impact as spending 10 yuan during boom times," said Zhao Meiling, an analyst at the Shenzhen-based Essence Securities.
The down maker from Changshu in Jiangsu province is also sparing no effort to prepare for a big splash at this year's CHIC, an annual Chinese fashion fair that no up-market garment maker can afford to miss.
"We have built a strong design team because we're committed to making Bosideng a high-end brand, both in China and overseas," said Gao.
It was at CHIC some five years ago that Gao first embarked on his overseas venture. The company made its debut at the fashion fair in 2004 and Gao met with top executives of Greenwoods Menswear, a British retailer of men's garments. This first meeting turned into a close business relationship that led to Bosideng's acquisition of a 50 percent stake in Greenwoods for 50 million pounds in January this year.
The company plans to leverage on Greenwoods' expertise in the UK retail market to develop a chain of up to 100 stores over the next five years, mainly in the southern regions of England. Two such outlets, which are selling Bosideng-branded clothing, were opened in the past couple of months.
The move is part of the Chinese company's market diversification program initiated by Gao.
Since the beginning of this year, Bosideng has opened stores in the US, Canada and Russia. The company plans to further expand this overseas distribution network.
It is also keenly scouting for potential acquisition targets. "Business in China, which accounts for the bulk of our sales, has remained strong. With plenty of cash on hand, we are in an advantageous position to hunt for bargains globally," Gao said.
The company is narrowing its search to high-end textile and apparel manufacturers with well-known brand names in developed countries, Gao said.
On the home front, no competitor has the clout yet to challenge Bosideng's stranglehold on the lower end segment of the down garment market. But as profit margins of low-end goods start to shrink, Bosideng has no choice but to upgrade its products to compete with established domestic players and foreign brands in the higher-end segment of the market.
The introduction of an IT-supported production line management system has also helped to greatly improve efficiency and reduce quality problems at Bosideng.
Zhao said that although the company is not facing any challenge to its No 1 position in the down apparel market in China, it still faces the risk of being a single-product manufacturer. "This business model is inherently fragile and, in the case of Bosideng, is completely open to seasonal fluctuations," she said.
Mak said the company would launch all-season apparels soon. It will also keep a tight check on inventory and prices during the lean season, he said.
"Our global expansion is aimed at minimizing risk and increasing profitability because demand for high quality down apparel is immune to the economic downturn in overseas markets," Gao pointed out.