China's draft law on social insurance, which aims to create a universal safety net for all the country's 1.3 billion people, has fueled nationwide debate since it was opened to public comment last December.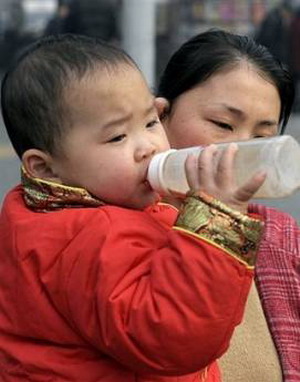 A child drinks milk in Chengdu, southwest China's Sichuan province in this 2008 file photo. [Agencies]
Over a 50 day time span ending February 15, the country's top legislature had received a total of 70,501 suggestions and proposals, the Commission for Legislative Affairs of the National People's Congress (NPC) Standing Committee said in a statement Thursday.
The proposals, written on the NPC website by netizens or sent to the top legislature by letter, were from people all over the country, including Hong Kong, Macao and Taiwan, the statement said.
The social insurance draft, which underwent its second reading by the NPC Standing Committee last December, specifies a common right for citizens, urban and rural alike, to pay premiums and enjoy old-age pensions and insurance for medical care, work injuries, unemployment and childbirth.
Many netizens agreed that the law is urgently needed as the government strives to expand domestic consumption in the face of the international financial crisis.
"I believe domestic consumption will increase if people don't have to worry about old age and expensive medical fees," an anonymous netizen wrote on the NPC website.
China has established several policies concerning social welfare since 1984. By 2008, about 219 million people have pensions and about 317 million have basic medical insurance. An additional 124 million have unemployment insurance, 138 million have work injury insurance and 91 million have childbirth insurance.
Fu Yan, a migrant worker employed by a Beijing household management company, said both she and her husband do not have any insurance. "I didn't know anything about insurance when I signed a contract with the company. All I wanted then was a job," said 28-year-old Fu, who is from southwest China's Sichuan Province.