Foreign direct investment (FDI) fell for the fourth month in a row in January as the economic crisis deepened across the world.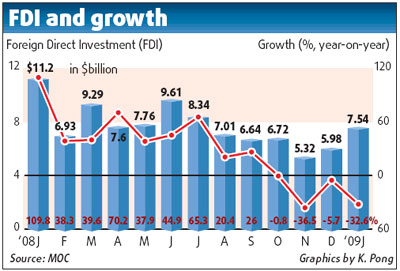 Overseas direct investment last month dropped 32.6 percent year-on-year to $7.54 billion, the Ministry of Commerce said yesterday, whereas in January 2008, it had risen by 109.78 percent.
The number of new companies set up on overseas capital dropped, too, by 48.7 percent year-on-year to 1,496.
Analysts said the drop was partly caused by recession in the developed economies and multinationals' reluctance or lack of liquidity to invest at this stage. The drop in investment is likely to continue for at least a few more months.
Related readings:


 Actual FDI falls 32.6% in January


 FDI decline to pressure emerging nations


 FDI growth falls for third month


 China's FDI up 23.6% in 2008
Investments from Asian economies, too, could become sluggish during most of this year, they said.
"The drop in FDI is in line with expectations because the high investment in January 2008 and the moderation in inflows during the past few months had given enough hints for the things to come," said Sherman Chan, an economist with Moody's Economy.com.
"The global economy is not in a good state and overseas demand is weak so you can't expect foreign investment to increase," said Su Chang, a macro-economic analyst with China Economic Business Monitor.
But a proper comparison between January 2009 and 2008 cannot be made because last month had a full week of holidays for Spring Festival, whereas last year it was celebrated in February.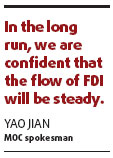 "The significant decline is because of the financial crisis, the high comparative figure of January 2008 and the long Spring Festival holiday," Ministry of Commerce spokesman Yao Jian said at a press briefing.
The $7.54 billion capital inflow in January is only slightly less than last year's average monthly figure of $7.7 billion, Yao said. The monthly figure, compared to last month, is likely to go up during the rest of this year because the country will offer more opportunities to investors as it adjusts its macro economy. "In the long run, we are confident that the flow of FDI will be steady," he said.
Though overseas investment began weakening in October, last year's total capital inflow still rose 23.6 percent to $92.4 billion. The figure was higher than the 13.6 percent increase for 2007, and made China the largest FDI recipient among emerging economies for the 13th successive years.
Globally, FDI fell 21 percent last year to $1.4 trillion, says a UN Conference on Trade and Development report.