Firms in Hunan expanded their investments overseas last year, Gan Lin, its deputy governor, said.
Local companies invested $660 million in 206 overseas firms, he said.
Related readings:


 Power Investment Corp plans Hunan, Guangxi nuke plants


 Hunan to invest in 18 expressways


 Hunan to lease out more scenic spots
Large State-owned firms also bought several foreign firms, which enhanced their competitiveness on the global stage," Jiang Huaizhang, deputy director of the provincial commerce department, said.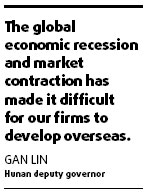 For example, Zoomlion Heavy Industry Science & Technology Development Co Ltd bought the Italian firm CIFA for 160 million euros ($207 million) in September, to become the world's largest manufacturer of concrete construction machinery, he said.
Private firms in the province also expanded their business overseas by buying foreign companies.
"These enterprises show the new style of industrialization in our province, and we will support them as they expand abroad," Gan said.
"The global economic recession and market contraction has made it difficult for our firms to develop overseas but it also gives them a good opportunity," she said.
"We will provide firms with information on investing in foreign countries, so they can assess project feasibility and risk prevention," Gan said.