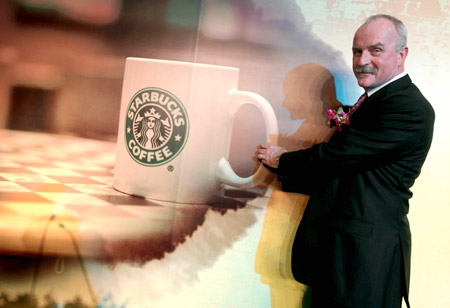 Martin Coles, president of Starbucks Coffee International Inc, poses at a company event in Beijing in January. [Agencies] 
Banking on China growth to offset the business slump in the United States, Starbucks, the world's largest coffee shop chain, is doing more than just opening more outlets. It is brewing a new blend, romantically called "South of the Clouds", of beans grown in Yunnan, the scenic southwestern province that is better known for its dark tea than brown coffee.
How would the Seattle-based coffee vendor describe the taste of its new brew to attract newly converted Chinese coffee drinkers? Imagine these definitions of the abstract taste: bright acidity, herbal spiciness and cocoa feel.
As confusing as these words may sound to the intellect and the senses, the company is going ahead to introduce the mysterious blend first in China and then in Singapore and Malaysia. The innovative move is seen as an important part of Starbucks strategy to maintain a double-digit growth rate in the China market at a time when business in the US is taking a hard hit from the fallout of the credit crisis.
In the past year or so, Starbucks closed more than 200 coffee shops in the US. The company said its business in China has not felt the impact of the global economic slowdown and it maintained that sales of coffee drinks in China could one day rival that of the US market.
Related readings:


 China's next export: Starbucks coffee


 Starbucks 'wastes 23 million litres of water each day'


 Beijing cafes opt for safer substitutes


 Starbucks to cut up to 12,000 jobs, close 600 stores
"We will still invest and grow in China. I don't see anything changing in that regard. China is an extremely important country for us," said Martin Coles, president of Starbucks Coffee International.
Starbucks opened its first store on the Chinese mainland in 1999 and now has more than 350 outlets in 26 cities. It has become one of the, if not the, most popular coffee brands among Chinese white-collar workers.
Starbucks' optimistic outlook for China stands in sharp contrast to its latest financial results. The company's net profit for fiscal 2008 plunged 53 percent from 2007 to $315.5 million. The 38-year-old coffee chain has nearly 16,000 outlets around the world, with about 11,000 in the US.
While closing unprofitable stores in the US, Starbucks has also downsized its plan for the number of international stores from 900 to 700 for fiscal year 2009. Two-thirds of the stores are expected to be licensed, which usually involves less cost to operate than self-owned stores.
"Speed and expansion can cover a lot of mistakes. I think it's a very important moment for us to take a pause and look at ourselves in the mirror," Coles said at a recent event marking the firm's 10th anniversary in China.
Skeptics have suggested that sourcing coffee beans in China is nothing more than a part of Starbucks' $400-million cost-cutting plan for fiscal year 2009. Coles said the cost-saving campaign "has nothing to do with sourcing from China". He explained that the company's cost cutting targets the elimination of "redundancies" and inefficiency.
"We buy coffee beans from China and roast in the US. Then we bring the roasted coffee back to China. So in terms of cost reduction, there is nothing," Coles said.
"The essence is about how we create a presence of Chinese coffee in the world. I hope one day when I walk into a local store in Washington, my barista behind the counter would ask me to taste the South of the Clouds blend and tell me the story of the village from which it came," Coles said.
Starbucks has been working for three years with farmers and government officials in Yunnan to look for coffee beans that meet its strict standard.
Yunnan produces about 30,000 tons of coffee annually, contributing 98 percent of China's total coffee output. Nearly 70 percent of the coffee is exported. Nestle has been purchasing coffee beans from Yunnan for over a decade.
"Although we provide coffee beans to many international coffee producers, Yunnan coffee is still little known to the world. Poor marketing is a major reason," said Yang Shiji, vice-director of the development research center of the Yunnan government.
Yang said the local government has signed a strategic agreement with Starbucks to help coffee growers improve yield and quality.
"We hope the partnership can bring us not only advanced production techniques but also new management and marketing methods," Yang said.