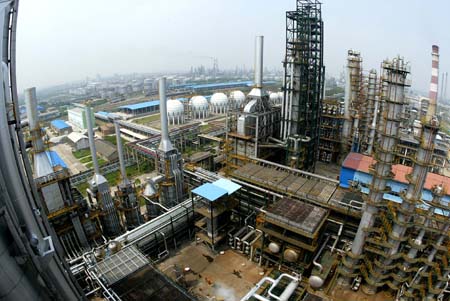 A general view of a Sinopec refinery in Zhejiang province. [China Daily]
China is expected to announce a 500-billion-yuan stimulus package for the struggling petrochemical industry.
The stimulus package includes 100-billion-yuan investment in 2009 and 2010 for oil products upgrade, and investment of 400 billion yuan for construction of 20 new large-scale petrochemical projects, China Business News reported, citing unnamed sources.
The proposed package will be submitted to the State Council for approval soon. Sources with China Petroleum and Chemical Industry Association (CPCIA) said it is expected to be announced after the Chinese Lunar New Year.
The nation had earlier announced stimulus packages for steel and auto industries recently.
"The package will focus on oil products restructuring and improvement on technology," an industry insider, who declined to be named, said.
Under the package China plans to invest 60 billion yuan this year to improve the quality of 60 million tons of gasoline to the level of China III and China IV standards, which are equivalent to Euro III and Euro IV standards, according to the report.
The country would also spend 40 billion yuan in 2010 to improve the quality of 60 million tons of diesel to similar standards.
China's two leading oil companies, China National Petroleum Corp (CNPC) and China PetroChemical Corp (Sinopec) are expected to fund the 100-billion-yuan investment.
China will also support domestic enterprises in overseas mergers and acquisitions, especially in oil resources and the fertilizer industry.
The package will also cover many other areas, including the adjustment of export tax rebate policies in the sector and the construction of more oil reserves.
Analysts said the package would mainly benefit China's two leading oil companies, CNPC and Sinopec, as they are now managing almost all the large oil refineries and chemical manufacturing plants.
Sinopec is also accelerating its pace in building new large-scale manufacturing facilities, a source with the company told China Daily in an earlier interview.
Some analysts said that the stimulus package will do little to strengthen the weak demand, which is the main problem at hand.