The densely packed steamy hotpot restaurant in Guijie, Beijing's well-known food street, looked particularly enticing on a cold and windy evening. The line of waiting customers was long and the pace of the seated diners was leisurely, typical gatherings of families and friends putting aside the worries of the economic downturn to concentrate on the choice of dips for the lightly boiled meat.
Restaurants like this, belonging to Hong Kong-listed Little Sheep, are valued by investment analysts not so much for their food, which is down-to-earth and inexpensive, but rather for their resistance to the economic downturn that is devastating so many other businesses.
Related readings:


 Little Sheep to be listed in HK


 Little Sheep, A8 to have better debut


 Investment helps Little Sheep's IPO in 2008


 Little Sheep Catering Chain eyes overseas expansion
In awarding Little Sheep a coveted "overweight" rating last November after the outbreak of the global credit crisis, US investment bank Morgan Stanley said it liked Little Sheep's long-term chain value, thanks to market leadership in the hotpot category, and for its defensive earnings thanks to value-for-money offerings.
From Jan 5 to 9, share price of Little Sheep jumped 5.4 percent from HK$2.14 to HK$2.25. Meanwhile, Hong Kong market benchmark Hang Seng Index dropped 665 points, or 4.42 percent, to 14,377.
Little Sheep said the lamb served in all its restaurants is shipped directly from the pastures in Inner Mongolia. The ingredients of the soup for boiling the meat are a closely guarded trade secret. But "our prices are modest", said Lu Wenbing, Little Sheep's president. A typical meal at any Little Sheep restaurant costs about 60 yuan per person, excluding drinks.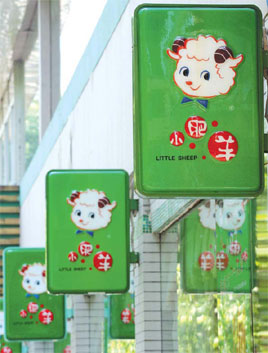 A Little Sheep restaurant in Nanjing, Jiangsu province. [China Daily]
"We are mainly focusing on the affordable sector, and therefore we have not witnessed the impact of (the economic) downturn," said Lu.
Indeed, eating out is not something that Chinese people, especially those in the cities, give up lightly even in an economic downturn, analysts said. This die-hard attitude is reflected in the popularity of Little Sheep's 103 directly controlled and 240 franchised restaurants at home and abroad, which returned a combined profit of 125 million yuan in 2008, up 37 percent from 2007.
At present, 90 percent of all Little Sheep restaurants are located on the mainland and most of the remaining portion are in Hong Kong, with a few in the US and Canada.
Since late last year, the company has held back its overseas expansion plan and concentrated on increasing its directly controlled outlets in the home market. "Our target is to open 60 new directly controlled restaurants on the mainland in 2009," said Lu.
Separately, Little Sheep has completed its acquisition of seven franchised restaurants for 17 million yuan in Tianjin, Inner Mongolia, Gansu, and Anhui. Meanwhile, the hotpot restaurant chain operator has also achieved an agreement with its mainland's largest franchise agent to directly run the latter's 42 Little Sheep franchise outlets in Hebei province.
More franchised outlet acquisitions are expected and expansion to the second and third-tier cities will speed up, according to Lu. But, "we have no plan to buy other hotpot brands so far," he added.
"It's a smart decision," said Tan Xiaoyu, an analyst with Guotai Jun'an Securities. "The strategy facilitates Little Sheep to avoid operation risks in the overseas market, especially the developed nations, where recession is worsening."
Meanwhile, the Chinese restaurant market is very promising, given the stable disposable incomes of local people and the traditional Chinese enthusiasm for gourmet dining, she indicated.
With the economy decelerating and consumer discretionary spending likely to slow, Morgan Stanley expects restaurants to be pressured in 2009. However, it said strong franchises and products with an attractive value proposition will likely capture and retain market share.