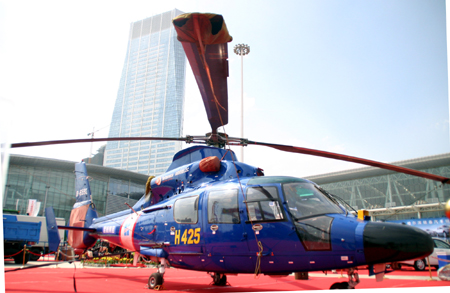 A helicopter made by Harbin Aircraft Industry (Group) Co Ltd is displayed at an air show in Harbin, Heilongjiang province in 2005. [China Daily]
Aviation Industry Corp of China (AVIC), the country's leading aviation manufacturer, plans to set up a helicopter company in Tianjin with the local government in a bid to consolidate its diverse businesses.
AVIC will inject its existing helicopter development and manufacturing assets, including China Helicopter Research and Development Institute, Harbin Aircraft Industry (Group) Co Ltd, Changhe Aircraft Industries Corp, and Baoding Propeller Factory, into the new company, according to an agreement signed Thursday.
The company, with a registered capital of 8 billion yuan, will be 69 percent controlled by AVIC and 31 percent owned by the Tianjin government, Li Fangyong, AVIC's deputy general manager, was quoted as saying by the Economic Observer News. AVIC and the Tianjin government will each invest an extra 4 billion yuan into the new company.
Related readings:


 China aviation giant AVIC signs US$26B credit agreement


 Aviation industry sees promising future


 Pact agreed to build aircraft engines


 Aviation group set to acquire foreign rival
This marks AVIC's latest move to consolidate its diverse businesses after it was launched in November 2008 by merging China's two leading State-owned aviation manufacturers, AVIC I and AVIC II.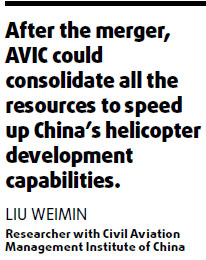 AVIC acts as a parent company, under which six new firms specializing in different businesses are set up to manage AVIC I and AVIC II's various firms and subsidiaries across the country. The six companies are respectively involved in transporters, airplane engines, helicopters, general aviation, airborne systems and aviation imports and exports.
"After the merger, AVIC could consolidate all the resources to speed up China's helicopter development capabilities," said Liu Weimin, a researcher with Civil Aviation Management Institute of China.
AVIC's existing helicopter and parts production facilities at Harbin of Heilongjiang province, Jingdezhen in Jiangxi province, and Baoding of Hebei province will remain unchanged.
Tianjin will focus on producing light helicopters for civilian use and host the new company's headquarters, research and development, sales and service centers. The Tianjin facility is expected to produce two light helicopters in 2009.
"Our helicopter businesses used to be based in the inland regions, which is limiting our growth. Now we can make full use of the geographical advantage of Tianjin as a port city," Li said.
Tianjin is building an aviation industry chain with aircraft manufacturing being the core sector. Airbus has built an A320 aircraft final assembly line in the city.
There are 124 civilian helicopters in China, much lower than the world average. It is widely expected that once the government relaxes low altitude airspace control in 2010 as planned, the helicopter market will take off.
Also on Thursday, AVIC received a combined credit line of 176 billion yuan from 10 Chinese banks, including the Industrial and Commercial Bank of China and China Construction Bank.