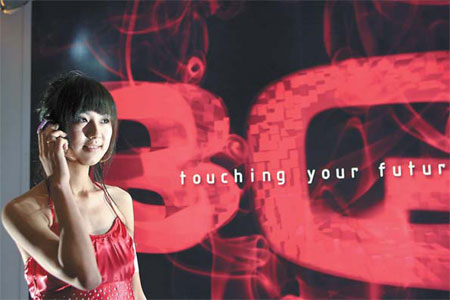 A lady makes a demo 3G phone call at a telecom show in Beijing. [China Daily]
China Wednesday officially awarded the long-awaited licenses for third generation (3G) mobile networks to three telephone operators, paving the way for investments of around 280 billion yuan in network upgradation and expansion over the next two years.
China Mobile got a license to deploy 3G networks based on TD-SCDMA, a home-grown 3G standard. Smaller rivals China Unicom and China Telecom were granted licenses for WCDMA and CDMA2000 respectively.
The Chinese government expects the new telecom investments after the 3G licensing to help stimulate the country's slowing economy.
Li Yizhong, minister of industry and information technology, said at an earlier industry conference in December that China would spend 280 billion yuan on 3G networks in 2008 and 2009.
Related readings:


 Unraveling the telecom puzzle


 3G is here, finally


 China's telecoms sector gets 3G licenses


 China Mobile falls after 3G licence issue
Chen Jinqiao, deputy chief engineer from China Academy of Telecommunication Research under MIIT (Ministry of Industry and Information Technology), estimated the 3G network construction to attract investments of 1.8 to 2 trillion yuan from related sectors.
Enabling faster data transmission, 3G networks allow cell phone users to make video calls and watch TV programs.
However, 3G licensing in the country has long been postponed due to the government's support of TD-SCDMA, which was believed less mature than its foreign rivals WCDMA and CDMA2000.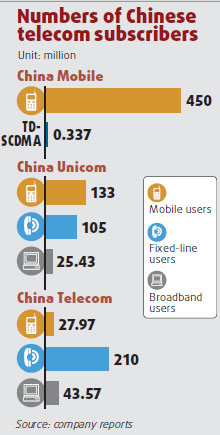 Last year, China Mobile launched construction in China's major cities of the pre-commercial TD-SCDMA network, which provided 3G services during the Beijing Olympic Games.
China International Capital Corporation Limited, a Chinese investment bank, said in a report that China Mobile may invest 25 billion yuan into TD-SCDMA in 2009, while China Telecom and China Unicom would invest 50 billion and 60 billion yuan into CDMA2000 and WCDMA respectively.
It estimated subsidies for 3G mobile phones to be around 38 billion yuan.
According to an online survey by Sina.com, China's largest portal website, 65 percent of the nearly 158,000 respondents will try 3G service as long as it is available.
But only about 47 percent said they would adopt China Mobile's 3G services, compared with 31 percent and 22 percent of users who choose China Unicom and China Telecom instead.
Analysys International, a domestic research firm, said 3G business would not see an explosive growth in China in 2009, as telecom carriers need time for network construction and upgrades.
The investments in 3G networks are expected to benefit domestic telecom equipment makers like Huawei Technologies and ZTE Corp as well as foreign firms like Ericsson, Alcatel-Lucent and Nokia Siemens Networks.
But foreign telecom equipment makers' total share in China's 3G market may amount to less than 50 percent, down from their dominating position in China's 2G market, according to BDA China, a Beijing-based research firm.