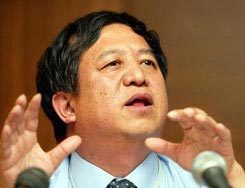 Zheng Junhuai, former chairman of Inner Mongolia Yili Industrial Group Co Ltd, is preparing to invest 4 billion yuan ($584 million) in a new dairy company, the National Business Daily reported Thursday.
Quoting an unnamed source, the Shanghai-based paper said Zheng has gathered 4 billion yuan and plans to base his new company in Hohhot, Inner Mongolia, one of China's dairy heartlands.
Zheng was sentenced to six years in prison in Dec 2005 for misappropriating public funds. Before his conviction, Zheng was chairman and CEO of Yili, one of China's largest dairy producers, from May 1993 till Dec 2004. He was released in early September of this year, after receiving a reduction in his sentence twice, the paper said. Zheng is considered as one of the most experienced leaders in China's dairy industry.
Related readings:


 China's dairy giants take oath to uphold ethics


 Inner Mongolia Yili Q3 loss widens


 Melamine scandal costs major dairy maker millions


 Customers sour to bigger milk brands
Most dairy producers in China have taken a hard hit from the tainted milk scandal that was blamed for killing six babies and sickening 294,000 children, according to official figures from the Ministry of Health.
Sanlu Group, the first Chinese dairy company whose products were found to contain high levels of the industrial chemical melamine, filed for bankruptcy on Dec 24. Meanwhile, Mengniu Dairy, the nation's largest liquid-milk producer, is expected to report a 900
million yuan loss for 2008 because of the melamine scandal, according to a statement released by the company on Dec 23.
However, this has also opened a window for dairy veterans like Zheng, said China Business Journal, citing an anonymous official from one of China's top dairy producers.