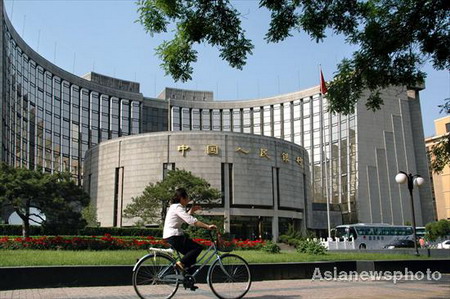 A bike rider passes the People's Bank of China, China's central bank, in Beijing in this file photo. The central bank slashed the lending and deposit rates by 0.27 percentage points as of Dec 23 as the latest move to stimulate economy. [Asianewsphoto]
China announced on Monday that the benchmark interest rate will be cut by 27 basis points along with the reserve requirement ratio, which will be dropped by half a percentage point to stimulate economic growth.
The interest rate cuts will come into effect from Dec 23. After the adjustment, the one-year lending rate will be 5.31 percent while the one-year deposit rate will be 2.25 percent. The reserve requirement, which refers to the proportion of money commercial banks must hold in reserves, will be 13.5 percent for large banks.
It is the fifth time China has cut its interest rates since September. In November, the central bank cut the interest rate by 108 basis points, the biggest cut in 11 years.
Dong Xian'an, a macroeconomic analyst at China Southwest Securities, said the combined interest rate and reserve requirement ratio cut will be more effective in helping stabilize domestic demand.
China's exports dropped by 2.2 percent year-on-year in November while year-on-year industrial output growth slowed to 5.4 percent from 8.2 percent in October. Its GDP growth slowed to 9 percent in the third quarter of this year, the fifth quarter that has recorded a drop. Many economists forecast that the year-on-year GDP growth in the fourth quarter could be below 8 percent.
China released its $586 billion economic stimulus plan in November and this month the Central Economic Work Conference vowed to take further measures to stabilize the economy.
The World Bank forecasted that China's GDP growth could be as low as 7.5 percent next year. Many economist expect that it could be around 8 percent, depending on the effect of the government's stimulus policies.