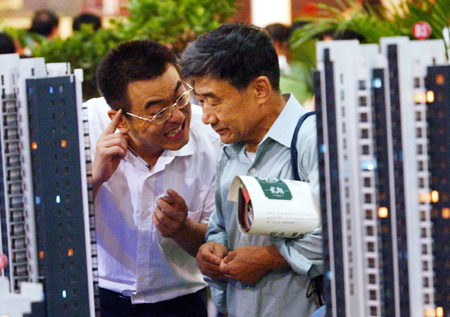 An estate broker introduces apartments for sales to a potential home buyer at a housing exhibition in Huangshan City, central China's Anhui Province, October 4, 2008. [Xinhua] 
The State Council, China's cabinet, launched a package of measures today aimed at strengthening the construction of low-cost housing, encouraging consumption of common residential buildings and supporting financing to qualified projects.
Restrictions on financial institutions issuing loans to second-home buyers were lifted, the government's latest move to revitalize the sluggish market.
Second-home buyers can still enjoy the favorable mortgage policies of first-home buyers on the condition that their average living space is less than the local average. Meanwhile, the levy of business taxes on pre-owned house transactions will be suspended for one year.
On Oct 22, the central bank announced that the down payment threshold would be lowered from 30 percent to 20 percent for first-home buyers.
It also allowed financial institutions to offer favorable policies to support those making their first home purchase for self-use and those buying self-use housing for improving living conditions.