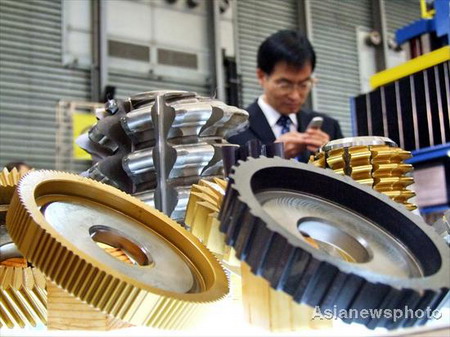 Steel products on display at an industrial expo in Shanghai. China's producer price index increased 2 percent year-on-year in November, down from 6.6 percent in October, the National Bureau of Statistics said Wednesday. [Asianewsphoto]

China's wholesale inflation fell to a 31-month low in November, giving the government more room to roll out measures to bolster the economy.
The producer price index (PPI) rose 2 percent year-on-year in November, down from 6.6 percent in October, the National Bureau of Statistics (NBS) said Wednesday morning.
The reading, the lowest since April 2006, showed wholesale inflationary pressure has continued to ease over the past months, with gloomy global economic prospects depressing commodity prices.
"The fall in PPI was expected as commodity and energy prices further weakened," said Jing Ulrich, JP Morgan's chairwoman for China equities. "We expect producer price inflation to moderate further in the near-term due to lower global commodity prices," she said.
Crude prices declined 14.7 percent year-on-year in the past month, according to the NBS. Gasoline, diesel and kerosene prices fell 19.7 percent, 7.9 percent and 22.3 percent respectively.
Oil prices have fallen to around $40 a barrel in the international market, down from the peak of $147 in July. The World Bank said yesterday that it expects oil prices to average $75 a barrel in 2009. Food prices, however, are expected to fall 23 percent next year.
"In 2009, there is a possibility that China's PPI will temporarily dip into negative territory, given the sharp fall in commodity prices," said Ulrich.
The nation's wholesale inflation peaked at 10.1 percent in August, a 12-year high, and has kept sliding since then. Yet, the drastic drop in November, down from the 6.6 percent in October, still caught some analysts by surprise, saying this figure probably reflected a worse-than-expected slowdown in the industrial sector.
"The recent downturn has already impaired consumer spending and corporate investment," said Li Zhikun, a senior analyst with China Jianyin Investment Securities Co. "It will hold the inflation low for a while."
The falling prices would alleviate the government's concern about an imminent rebound in inflation, as it gets ready to start work on a series of infrastructure projects to prop up the economy.
The November consumer price index, scheduled to be released Thursday, is likely to drop below 3 percent, analysts said. China's economic growth has slowed to 9 percent in the third quarter, a worrisome five-year low. The World Bank report has forecast that China's economy may dip to 7.5 percent in 2009 as the global economic downturn worsens.