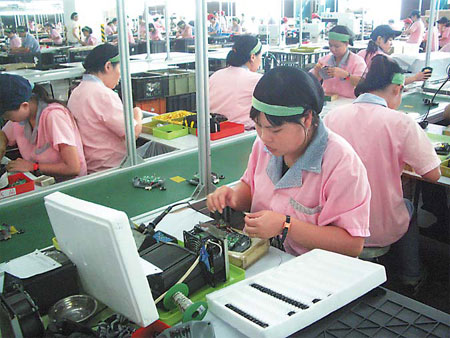 Jetta workers make hi-tech toys.
The global economic turmoil probably will accelerate the procedure of "Double Transfer" in the Pearl River Delta (PRD) region, and push the local enterprises to embrace technology innovative for business survival.
Companies funded by Hong Kong, Taiwan, and Macao investors are expected to take the lead to realize the "Double Transfer", which refers to transferring labor-intensive industries from the delta region to less-developed regions of the Guangdong province, while laborers from less-developed areas of the region will be also encouraged to work in local manufacturing and service industries, or find employment elsewhere in the region.
In May this year, the provincial government pledged to invest more than 50 billion yuan in the next five years to implement a new labor and industry strategy, known as "Double Transfer", in order to maintain a sustainable development of the region's economic growth.
Jetta Co Ltd, a leading toy-making company based in Hong Kong and having six manufacturing factories in PRD, is an example that knows how to change.
"We are not afraid of the economic crisis at all," Li Zhiyuan, honorary chairman of the company, tells China Business Weekly.
The company was founded 31 years ago in Hong Kong. It has focused on manufacturing an extended range of toys and gifts products.
Today, Jetta has already evolved into one of the largest original equipment manufacturing (OEM) factories in the world manufacturing both toys and non-toy products.
"But we attach more importance on original design manufacturing (ODM) nowadays," Li says.
The change has attracted more clients of different categories globally, Li says.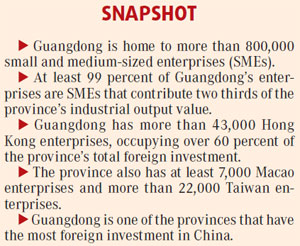 To seek for a sustainable development, the company set up a factory in Shaoguan, a less-developed city in the north of Guangdong, as early as in 1998.
The move has boosted the economic development of the city and created a lot of work opportunities for local residents.
Jetta currently operates six major production bases in Guangdong province, which together cover more than 450,000 sq m of production floor space.
At the very beginning, the company only hired 25 workers. However, the company now has a workforce of over 35,000.
Many toy factories are facing a difficult time at present as the number of orders has reduced sharply. But Li says Jetta has not seen any slowdown and received the same number of orders in the first 10 months compared with same period last year.
Li says Jetta is actually benefiting from the bad business environment.
"Some orders that were given to other companies in the past have been given to us, since some of the other companies have shut down. Our focus on innovation and quality has also helped us," he says.
The devastating economic turmoil has forced many small and medium-sized manufacturing enterprises in the PRD to shift to technology-intensive and innovative production modes, Wu Jun, deputy director of the department of foreign trade and economic cooperation of Guangdong province, tells China Business Weekly.
"In the short term, a lot of enterprises have to shrink the scale of their businesses as the economy enters a downturn period," Wu says.
"But in long term, in order to survive, many enterprises will change their production mode to being more science and technology driven and some enterprises will move their locations to the less-developed areas having cheaper land and labor. For example, the east, north and west parts of Guangdong."
The move will boost the economic development in those areas, he adds.
"The economic crisis has given an opportunity to enterprises on the other hand," he says.
Guangdong has spared no effort to upgrade the producing mode of enterprises in the PRD in the past few years.
But a lot of difficulties have been encountered, as many enterprises are not interested in changing their two to three decade old labor-intensive mode of businesses. Most of the companies also prefer to be based around the PRD than move to less-developed areas, as the delta region offers convenient transportation and mature infrastructure.
Taiwan-invested Quanyu Industry Co Ltd based in Quanzhou, Fujian province, is a negative case.
Since July this year, the company specializing in the production of sole plastic of all types has been losing money, says Chen Pingshun, general manager of the company.
"We had a slight profit before the financial crisis, but the situation has changed," Chen says. "We produced about one million soles in July, but only 60,000 pieces in September because of the reduction of orders."
He says the profit from a pair of soles is only around dozens cents of renminbi and the low profit business is entirely labor-intensive. Due to inadequate capital and advanced facilities, it's also hard for him to change the production mode.
"We are waiting for the economic situation to change," Chen says. "If the situation is still bad two years later, we probably will end our business here."
"For Taiwan enterprises, there is a very good opportunity at present," Wu Chen-Chang, former chairman of the Association of Enterprises with Taiwan of Guangzhou, says.
Chen Yunlin, president of the mainland's Association for Relations across the Taiwan Straits, and Chiang Pin-kung, chairman of the Straits Exchange Foundation, inked agreements to establish full-fledged "three direct links" - transport, postal service and trade across the Straits last month.
Wu says it's a golden opportunity and a timely help for Taiwan enterprises who have invested or will invest on the mainland. He says enterprises should not get caught up in the economic downturn, but rather look for the right opportunities to bestir their business.
"Change is one channel to survive, but catching up opportunity is another," he says.
Currently, Guangdong is home to more than 800,000 small and medium-sized enterprises (SMEs), most of which are located in PRD, according to the SMEs administration bureau of Guangdong.
The bureau's statistics also show that 99 percent of Guangdong's enterprises are SMEs that contribute two-thirds of the province's industrial output value.
Among foreign-capital invested companies in Guangdong, Hong Kong enterprises are taking up the biggest proportion.
Up to the end of last year, the province has been embracing more than 43,000 Hong Kong enterprises, occupying over 60 percent of the province's total foreign investment, says the provincial foreign trade and economic corporation department.
With more than 7,000 Macao enterprises and over 22,000 Taiwan firms also, Guangdong is one of the provinces that attracts the most foreign investment in the country, the department says.