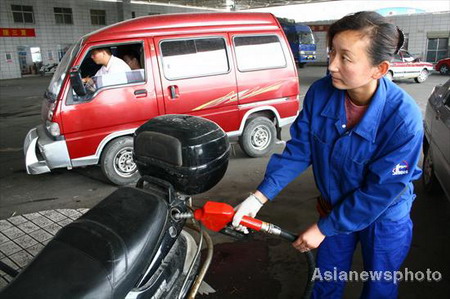 A gas station worker pumps a motorcycle with gasoline at a petrol station in Fuyang, Anhui province, in this file photo taken on June 4, 2008. China has proposed a reform of the fuel tax that would raise tariffs for gasoline and diesel while eliminating other fees for drivers. [Asianewsphoto]
China unveiled a long-awaited scheme on fuel taxation and reform of the country's refined oil pricing mechanism on Friday evening to solicit public opinion.
Related readings:


 Fuel tax unlikely to hike inflation


 NDRC: Fuel tax scheme to be made public soon


 Views on proposed fuel tax sought


 Fuel tax 'needs no further legislative approval'

The scheme, scheduled to be put into effect on January 1, 2009, will annul six types of fees on road and waterway maintenance and management. Meantime, it will raise the gasoline tax from the current 0.2 yuan per liter to one yuan and diesel tax from 0.1 yuan per liter to 0.8 yuan.

The country's existing fuel price will not be further raised because of the reform, said the scheme jointly released by the National Development and Reform Commission, Ministry of Finance, Ministry of Transport and State Administration of Taxation.
The four ministries said the reform on fuel taxation and oil pricing "is aimed at facilitating energy saving and emission cut as well as the economic structural adjustment."
China has been pushing for fuel tax reform for many years. Both government officials and scholars have been saying that the on-going oil price drop in the international market is presenting a perfect opportunity for China kick start it. The world crude oil price has plunged almost 70 percent from the peak $147 per barrel in mid-July.
The government said that the tax revenues would be used to cover expenditure on road and waterway maintenance and management, subsidize the losses of local governments due to the abolishment of road tolls and support farmers and disadvantaged people affected by the reform.
The public may raise their opinions by letter, fax or email from Dec 5 to Dec 12, said the four ministries in a press release.
The State Council, or the Cabinet, had discussed the reform plans of oil pricing mechanism last week, and decided to make public the draft reform plan to solicit public advice.