Chinese Internet users are once again calling for a boycott of French products, following French President Nicolas Sarkozy's decision to meet the Dalai Lama.
An anonymous post on the website China.com on Monday, which urged consumers to say no to French goods for the second time this year, attracted massive interest.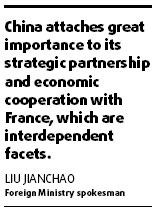 Within an hour, more than 3,000 people from across the country had expressed support for the boycott, and as of press time yesterday, the total had risen to more than 100,000.
The post advised consumers not to buy about 50 French brands, including cars, clothes, alcohol and skin-care products.
On hearing of the calls for a boycott, the foreign ministry yesterday urged people to "calm down" and treat the Sino-EU and Sino-French relationship in a rational way.
The first call for a boycott of French products came in April, after pro-Tibet supporters disrupted the Paris leg of the Beijing Olympic torch relay. Protesters later staged three days of demonstrations against French supermarket chain Carrefour, which they accused of supporting the Dalai Lama.
The retailer declined to comment on Thursday.
Sarkozy's decision to meet with the Dalai Lama has sparked concern that business ties between China and France might suffer, as they did between China and Germany after German Chancellor Angela Merkel met the Dalai Lama in Berlin last year.
Speaking at a press briefing Thursday, Foreign Ministry spokesman Liu Jianchao said that good economic relations should always be based on a healthy political atmosphere.
"China attaches great importance to its strategic partnership and economic cooperation with France, which are interdependent facets," he said.
The French side, which has "taken a wrong stance" in insisting on Sarkozy's meeting with the Dalai Lama, should make efforts to ensure good political relations between the two countries, he said.
Analysts have said Sarkozy might yet cancel his meeting with the Dalai Lama, scheduled for Saturday, in a bid to protect mutually beneficial Sino-French trade ties.
Beijing earlier canceled a major China-EU summit in protest at the planned meeting.