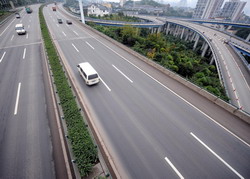 China's central government will add 100 billion yuan ($14.51 billion) to key projects in the fourth quarter of this year, of which 28 billion yuan are allocated for railways, roads and airport infrastructure, said www.CRI.cn Wednesday.
An official speaking on condition of anonymity from the National Development and Reform Commission, China's top planner, said 15 billion yuan will be spent on railways, 5 billion yuan on highways, 5 billion yuan on rural roads, and 3 billion yuan on the country's central and western airports.
The projects on railways cover the Beijing-Shanghai high-speed railway; Beijing-Shijiazhuang passenger dedicated line, Baotou-Xi'an coal railway, and the Guiyang-Guangzhou and Nanning-Guangzhou railways.
The Ministry of Railways has planned 25 projects, with half of them in the western regions. "The projects will focus on those under-constructed and to be constructed," said the official.
For the highway projects, the investment will be allocated to central and eastern highway reconstruction projects and highways in western regions.
As for the investment in airports, two-thirds of the 3 billion yuan is planned for airports in Kunming, Chongqing, Nanning, and Urumqi, and one-third for airports in Shangri-La, and Xishuangbanna in Southwest China's Yunnan province, and Zhongwei and Guyuan in Northwest China's Gansu province.
The central government will also build asphalt roads to central and eastern regions' villages, and to the countryside in the western regions.
Experts said the money could increase the demand for construction materials, machinery, fuel and workers.
Every 100 million yuan of investment in expressway construction can create 1,800 jobs directly and 2,100 jobs indirectly. And an average of 1,000 tons of steel, 9,000 tons of cement and 1,900 tons of asphalt are needed to build 1 kilometer of expressway.
In the fourth quarter of this year, the Ministry of Railways will have invested 15 billion yuan, and it is expected to pull up new investment of 50 billion yuan (including the 15 billion yuan). There will be a need of 1.61 million tons of steel and 10 million tons of cement, and 500,000 jobs to fill there.
The airport projects in total are expected to pull together 32.2 billion yuan in investment. Some 80,000-square-meters in construction area for terminals are expected to be finished in a short time, and terminals of one million square meters are under construction. It is expected the airports will need 500,000 tons of steel, and 10 million tons of cement.