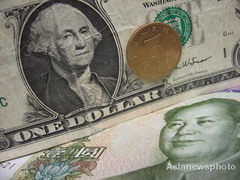 The renminbi yesterday registered the largest one-day fall since it was de-pegged from the US currency in July 2005.
The daily benchmark, or the central parity rate for the US dollar, dropped 156 basis points to close at 6.8505, the lowest level since August.
Experts say the sign of renminbi depreciation appeared last week. Last Thursday its value against the US dollar dipped 20 basis points and fell another 57 basis points on Friday.
Luo Rui, an official with China's Central Bank, told Hong Kong-based media last Friday that the renminbi will remain stable against the US dollar in the short run, but its future trend will largely depend on market demands and the value of other currencies.
The governor of the People's Bank of China, Zhou Xiaochuan said earlier that he wouldn't rule out the possibility of the renminbi depreciating.
"The moderate depreciation of the Chinese currency is conducive to the domestic economy," said Guo Tianyong, director of the Research Center of the Chinese Banking Industry, Central University of Finance and Economics.
But he also pointed out that as overseas demand has declined substantially, renminbi depreciation is not "quite an effective tool" to spur export growth.