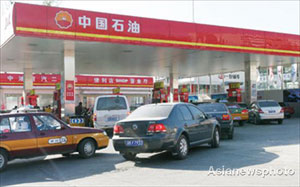 A PetroChina gas station in Chongqing. [Asianewsphoto]
China's top economic planning body is working closely with a number of government organizations to study the feasibility of reforming China's retail oil pricing mechanism and the introduction of fuel taxes.
The National Development and Reform Commission yesterday said on its website that its officials held a meeting to discuss the issue with representatives of some ministries and local governments.
An unnamed source said that the meeting took place on Tuesday, the same day that a senior researcher from the commission said the government was likely to levy a fuel tax soon.
The commission said it discussed the possibility of lowering pump prices, totally scrapping road maintenance fees, while scrapping road tolls in certain places.
Although this was the first official statement on the issue, the commission did not clarify whether there was any agreement on price cuts or a fuel tax.
Falling crude costs and dwindling demand for oil products have sparked speculation that China will cut fuel prices for the first time in two years and many believe the present low crude oil prices present a perfect opportunity for the government to levy a fuel tax, as consumers will be more amenable when oil prices are low.
Zheng Jun, an analyst with China Securities, said he had long believed that the government, while it is likely to set the fuel tax at 30 percent, would lower retail gasoline prices by 20 percent and abolish road maintenance fees.
However, "I don't expect the government to scrap road tolls on highways, as that would seriously dampen investment enthusiasm."