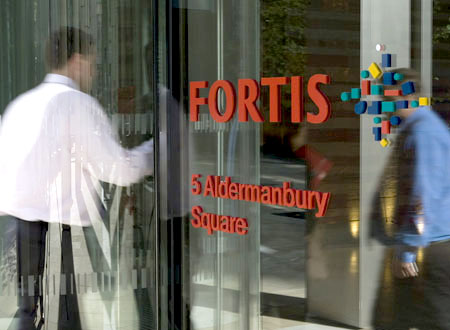 A businessman enters the Fortis office in London. China's second largest insurer Ping An may sue Fortis for selling most of its assets without the approval of shareholders.[Agencies]
China's second largest insurer Ping An may sue Belgian-Dutch financial group Fortis for selling most of its assets without the approval of shareholders, a Dutch-based newspaper reported.
As the largest shareholder of Fortis, Ping An has a 4.99 percent stake in the company. Ping An would not rule out the possibility of taking legal action if Fortis continues to refuse discussing the disposal of assets at a shareholder meeting to be held on December 1, according to Dutch-based newspaper Het Financieele Dagblad, which quoted a lawyer working for Ping An in Belgium.
"We will have a close eye on Fortis and try our best to protect the legal interests of Ping An," Ping An spokesman Sheng Ruisheng told China Daily.
However, Sheng did not elaborate on when the company could take legal action to protect its overseas investment.
In September, the Netherlands, Belgium and Luxembourg governments injected 11.2 billion euros ($14.02 billion) in cash to prop up Fortis. Later, Fortis sold assets to the Dutch government and BNP Paribas, France's largest bank, which aroused the ire of some shareholders. That asset sale included Fortis' Belgian operations to BNP Paribas, leaving it with its international insurance business and a 66 percent stake in a 10.4 billion euro portfolio of structured credit products, according to Reuters.
In October, Euroshareholders asked the Enterprise Chamber of the Amsterdam Court of Appeal to block Fortis' asset disposal.
"If Ping An and Fortis can't settle the suit out of court, the lawsuit will be judged in Belgium according to the local company law, since the registered place of Fortis is Belgium. Usually, this kind of international lawsuit will last at least 2 years," a lawyer told China Daily, who refused to be named.
"According to the corporate law in China, material asset disposal must get approval at a general shareholders' meeting. If not, the disposal can be judged invalid. The shareholders can ask for a recall of the disposal or claim compensation," the lawyer added.
Fortis has been ranked among Europe's top 20 financial institutions, yet industry analysts said it can't be described as a financial heavyweight now, since it has disposed of so many core business, including banks, asset management and insurance.
Ping An invested 23.87 billion yuan ($3.49 billion) in Fortis shares last November, aimed at seeking international cooperation and market expertise from Fortis.
Yet, due to Fortis' asset disposal, Ping An is considering measures to protect its investment, industry analysts said.
Due to the turmoil, the stock price of Fortis has plunged about 96 percent since Ping An acquired shares in Fortis last November. Ping An's Fortis-related investment losses hit 15.7 billion yuan in book value as of the end of September and Ping An reported a loss of 7.81 billion yuan in the third quarter after impairment provisions.