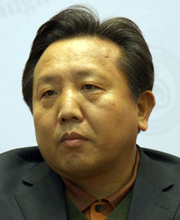 Wu Xiaoqiu
The nation's 4-trillion-yuan economic package is far better than any buffer fund for the Chinese capital market, a noted economist saidat a forum in Beijing on Friday.
Wu Xiaoqiu, director of the Finance and Securities Institute of Renmin University of China, made the comment during a discussion at the 2008 Tsinghua Management Global Forum.
"The stimulus package salvaged the confidence of the capital market," he said. "By adjusting the fiscal and monetary policies adequately, the financial authority managed to stabilize the performance of heavily weighed financial stocks in China's stock market."
Meanwhile, the mega package will spur investment in steel, cement and building materials, which will in turn give stock in these sectors a boost, he said.
"Therefore, in terms of stimulating the sluggish stock market, the package is far better than any buffer fund," Wu noted.
The benchmark Shanghai Composite Index closed at 2,030.49 on Monday. It has rebounded nearly 20 percent since the announcement of the stimulus package one week ago.
Wu also suggested that in carrying out the ambitious plan, policymakers should be more flexible in adopting macro-economic adjustment and guide the economy moderately.