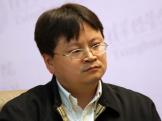 Guan Tao
Despite some market concerns over the exchange rate of the renminbi amid the financial crisis, monitoring results show there has been no abnormal surge in fund outflow, an official from the nation's foreign exchange regulator has said.
Guan Tao, deputy head of the general affairs department of the State Administration of Foreign Exchange, made the remark at the 2008 Tsinghua Management Global Forum on Nov 14.
"The current global financial turmoil has brought more uncertainties to China's economy," he said. "Meanwhile, the crisis has mopped up excessive market liquidity and led to a credit contraction, which has forced some Western hedge funds to close their positions in overseas markets. Some speculated that the above factors may cause a depreciation of the renminbi against the US dollar," he said.
However, figures monitored by relevant departments show there has been no abnormal increase in fund outflow in the most likely channels, he said.
To a certain extent, the financial turmoil and the slowdown of the world economy has reduced China's large trade surplus and can guide the nation to more balanced development, he added.