Wang Zhongming, research center director of the State-owned Assets Supervision and Administration Commission, on Friday said at a forum in Beijing that enterprises should draw lessons from the financial crisis.
He warned that too much reliance on government bailouts would sow the seed for future problems in China's economic development.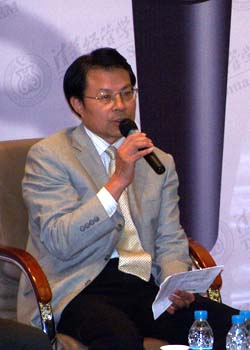 Wang Zhongming
He told the 2008 Tsinghua Management Forum that the crisis is good for Chinese enterprises to learn the law of "the survival of the fittest". Although government stimulus plans will help restore confidence, enterprises should look for the root problems in themselves, he said.
Wang believes there will emerge more excellent companies in the United States after the financial storm. "But do we have the same expectation (about our enterprises) when this crisis is over? Should we continue to have high expectations of the outcome of government measures? What responsibilities should our enterprises take? When will China have really great enterprises? Do these questions deserve more of our thought?" he asked.
As prices of global resource products, such as iron ore, are on the decline, authorities must take preventative measures against possible resurrection of the extensive growth mode, Wang said.
Enterprises should be encouraged to obtain more strategic resources and make greater efforts in energy conservation, emission reduction and technology innovation, he said.