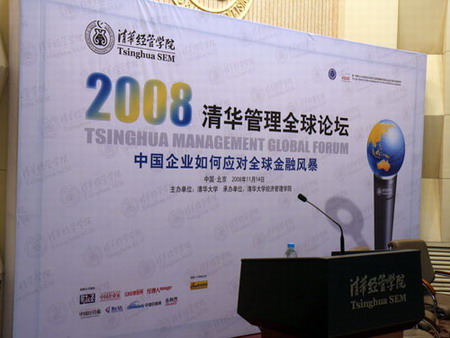 The 2008 Tsinghua Management Global Forum, an annual event hosted by the prestigious Tsinghua University since last year, was held at the university's School of Economics and Management (SEM) Friday afternoon.

The theme of this year's Forum was "How Should Chinese Enterprises Counteract the Global Financial Turmoil". The forum was presided over by Qian Yingyi, a renowned economist and dean of Tsinghua's SEM.
Xie Weihe, vice president of Tsinghua University, said during the opening speech the "China factor" had been playing an increasingly important role in world development and that he hoped the forum could offer a grand platform for open and frank communication and brainstorming among scholars and entrepreneurs.
Jiang Jianqing, chairman of the Industrial and Commercial Bank of China, briefed the audience on the formation of the global financial crisis and its features in his keynote speech, and appealed for reforms in eight aspects of the global financial system.
Shen Liantao, chief consultant with the China Banking Regulatory Commission, compared the current crisis with the 1997 Asia financial crisis in his keynote speech. He warned that excessive, derailed innovation, such as profiteering from high-leveraged financial tools, can never be good for the economy.
Following the speeches were two sessions of group discussions. The first was themed on adjustments of China's microeconomic control policies amid the financial crisis and the second on challenges the crisis poses to Chinese enterprises and the solutions. Guests invited to the discussions included scholars, government officials and entrepreneurs.