To restore investor confidence, enterprises should make efforts together with policymakers to reverse the low market expectation amid panic triggered by the global financial crisis, experts said at a management forum held in Beijing on Friday.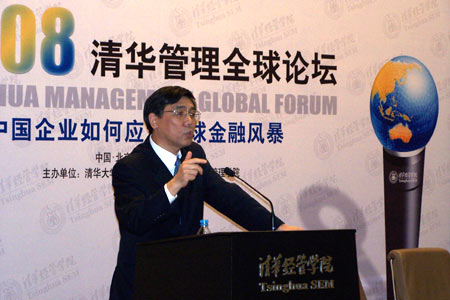 Jiang Jianqing, chairman of the Industrial and Commercial Bank of China [chinadaily.com.cn]
"The fundamentals of China's economy are still very strong even though the ongoing crisis does have implications for China's growth," said Jiang Jianqing, chairman of the Industrial and Commercial Bank of China.
"Consistent expectations and confidence are essential for the normal development of the market," Jiang said during a keynote speech at the 2008 Tsinghua Management Global Forum.
In his view, it is critical for China to make efforts to guide market expectations in the right direction. He called for close attention to the confidence problem as well as more research on it as "research in this field remains scarce".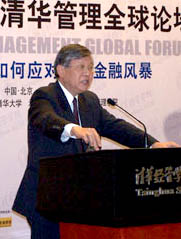 Shen Liantao[chinadaily.com.cn] 
Shen Liantao, chief consultant with the China Banking Regulatory Commission, told the forum that government bailouts alone would not be strong ecnough for existing problems to achieve overall economic stability in the backdrop of a global slowdown.
As the crisis has its origins outside the country, China should not lose confidence in its own development, he said.
"The world has high expectations of China," he said. "China's economy is still strong and Asia may have the highest potential in the world."
Responding to a question about China's financial innovation, Shen said: "Personally, I think vitality comes only from innovation."
He told chinadaily.com.cn that China should be fully confident in making innovations and continue to explore ways of innovation that conform to China's own conditions.
Chinese enterprises should also make more efforts to put many untapped advantages into play and sell their products overseas, he added.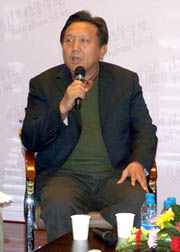 Wu Xiaoqiu[chinadaily.com.cn] 
Wu Xiaoqiu, director of the Finance and Securities Institute of Renmin University of China, said the strict monetary policies China had previously adopted to curb inflation were partly to blame for its economic downturn, in addition to the worsening outside environment.
He said China now should pursue a proactive fiscal policy and a moderately loose monetary policy to stimulate the economy and boost market confidence.
Since September, the Chinese central bank has already cut the interest rates three times and lowered the reserve requirement ratio twice for banks.
"Our confidence has already begun to pick up gradually," said Wu. He said the 4 trillion yuan ($586 billion) stimulus package announced recently by the central government as well as tax cuts should further stimulate domestic demand and boost market confidence. "Things won't become worse but will only get better," he said.
But Wang Zhongming, research center director of the State-owned Assets Supervision and Administration Commission, warned that too much reliance on government bailouts would sow the seed for future problems in China's economic development.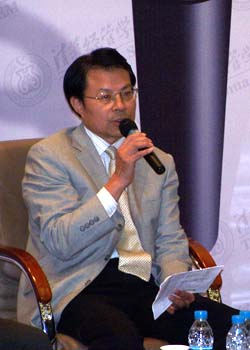 Wang Zhongming [chinadaily.com.cn]
He told the forum that the crisis is good for Chinese enterprises to learn the law of "the survival of the fittest". Although government stimulus plans will help restore confidence, enterprises should look for the root problems in themselves, he said.
Wang believes there will emerge more excellent companies in the United States after the financial storm. "But do we have the same expectation [about our enterprises] when this crisis is over? Should we continue to have high expectations of the outcome of government measures? What responsibilities should our enterprises take? When will China have really great enterprises? Do these questions deserve more of our thought?" he asked.
As prices of global resource products, such as iron ore, are on the decline, authorities must take preventative measures against possible resurrection of the extensive growth mode, Wang said.
Enterprises should be encouraged to obtain more strategic resources and make greater efforts in energy conservation, emission reduction and technology innovation, he said.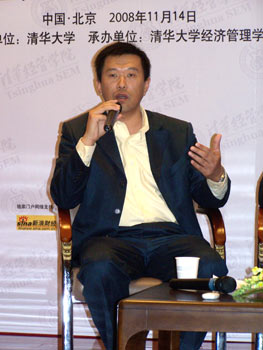 Yang Wentao[chinadaily.com.cn]
Yang Wentao, deputy general manger of Lenovo Group's global procurement division, told chinadaily.com.cn that Lenovo has a strong laptop research team, which gets a certain proportion of the company's sales revenue every year.
"We don't reduce the research budget because the crisis has hit or increase it because we make more money," he said.
According to Wang, the global crisis has had limited impact on China mainly because the country's capital market remains largely closed to the outside world, but China should not feel lucky about its backwardness.
"Looking at the risks on the Wall Street is the greatest risk," he warned. "Shouldn't we be smarter next time?"